Alex Proba's Collaboration With Gossamer Takes Rugs To a New High
Alex Proba's Collaboration With Gossamer Takes Rugs To a New High
1/35 Photos
2/35 Photos
3/35 Photos
4/35 Photos
5/35 Photos
6/35 Photos
7/35 Photos
8/35 Photos
9/35 Photos
10/35 Photos
11/35 Photos
12/35 Photos
13/35 Photos
14/35 Photos
15/35 Photos
16/35 Photos
17/35 Photos
18/35 Photos
19/35 Photos
20/35 Photos
21/35 Photos
22/35 Photos
23/35 Photos
24/35 Photos
25/35 Photos
26/35 Photos
27/35 Photos
28/35 Photos
29/35 Photos
30/35 Photos
31/35 Photos
32/35 Photos
33/35 Photos
34/35 Photos
35/35 Photos
Multidisciplinary artist Alex Proba – known for her distinct visual language that involves playful exploration of textures, shapes, and colors – has added another collection under her eponymous line Proba Home. In collaboration with Gossamer, a lifestyle cannabis brand, Alex has designed a colorful collection of four handwoven, hand-tufted rugs inspired by Gossamer's color palette and the cover of its latest bi-annual magazine, Volume Seven: Touch.
The design process involved explorative collaging and multiple iterations once the collages were digitized. On giving proper nod to Gossamer, Alex shares, "We've added a smoky, psychedelic wave pattern as a subtle nod to Gossamer's perspective and took cues from their typography, which is never just linear." Alex's signature shapes and patterns were then layered on top, a party of long white ribbons, drips of neon orange, polka dot cut-outs, and scallop swaths of baby pink.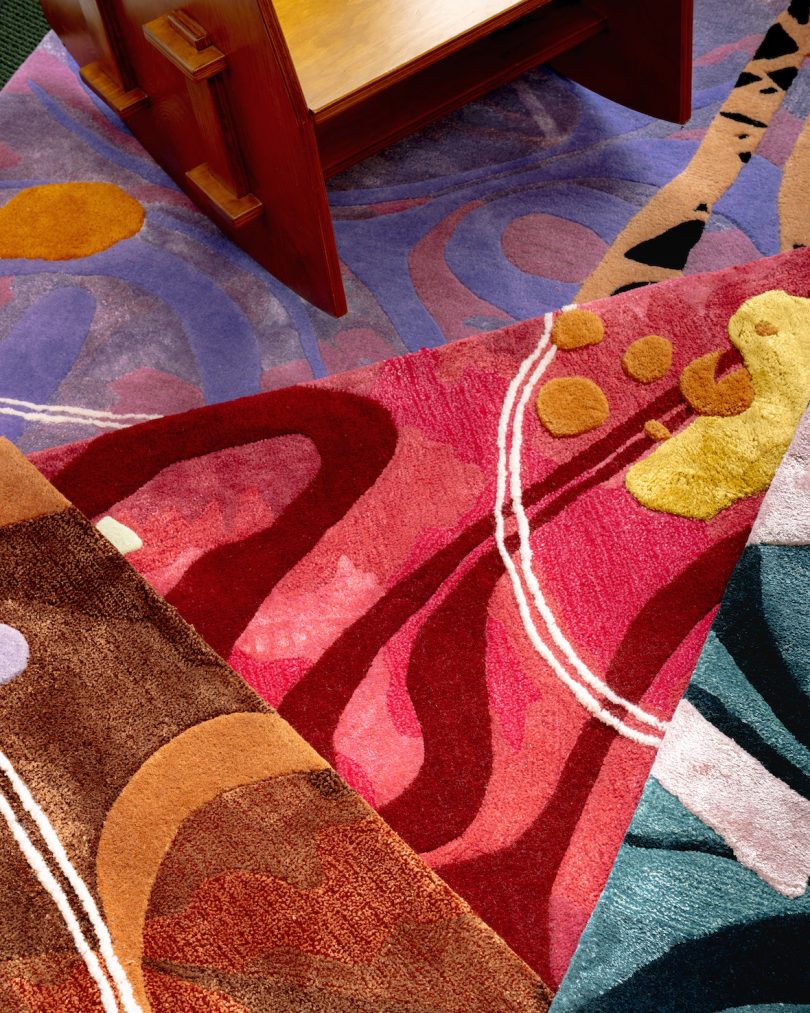 The final four designs are all made to order with organic dyes and available in sizes 2×3, 3×5, 4×6, 5×8, and 6×9. They are exclusively sold at Gossamer and Proba Home.
Photos by Sean Davidson.