An unearthed alien artifact? A leftover set piece from Oblivion? Futuristic air purifier? Codenamed 'Triad', Alienware's newly unveiled Area-51 computer has done for desktop gaming PCs what Apple did for designers with their turbine shaped Mac Pro: broken the mold.
The polygonal curiosity is a pixel-pushing beast, outfitted with 6- or 8-core Haswell-E processors inside an overclocked and liquid cooled case… a defiantly niche machine for the hardest core (and deep-pocketed) PC gamer with an eye for desktop aesthetics.
Before discounting the Area-51's triad form factor as form over function, note the geometry also serves a purpose beyond establishing an eye-catching presence: the vents on both sides allows for improved thermal flow, keeping components cool by directing airflow from one side out through the other. LED lighting across the edges further accentuates the shape while the machine is on, offered in an array of hues (though one could also argue the colored lights detract and cheapen the rig's otherwise pleasing Hollywood-futuristic design).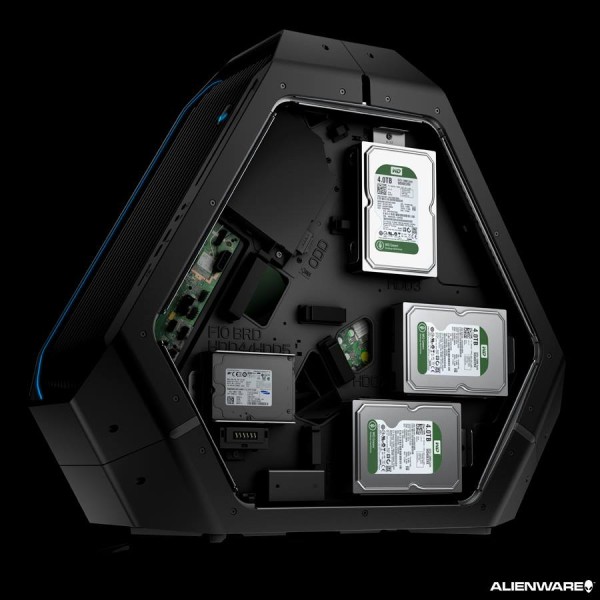 "Internal fans blow fresh ambient air, quietly and directly, onto the graphics cards and the internal cable management enables maximum airflow — satisfying your system's hunger for cooler air and keeping it performing at its peak. The angled design also provides a large space for hot air to escape where a traditional, rectangular chassis only leaves a small space between it and the wall."
For those curious about the specs:
– Intel Core i7 Haswell-E processors
– Factory overclocked and liquid cooled
– Available with 6 or 8 core CPU options
– Intel's X99 Express Chipset
– Quad Channel DDR4 2133MHz RAM
– Dual, Triple or Quad Graphics Support
– Up to a 1.5KW Power Supply
– SSD + HDD Storage Options up to five drives
– Intel 802.11ac Wireless
– Bluetooth 4.0
The Alienware Area-51 is scheduled for holiday season availability, shipping with the option for a curved ultra-wide 21:9 Dell UltraSharp 34 display with a whopping 3,440-by-1,440 resolution. More details at Alienware.

Design From Around The Web