New Orleans architecture firm Building Studio takes on the conundrum of building affordable, design-conscious housing in the low income Central City neighborhood of New Orleans. Prompted by the ravaged city's re-housing efforts post-Katrina, construction was funded by one of the firm's clients. Dubbed Alligator House for the open-mouthed silhouette of the exterior's front portion, the 872-square foot house occupies a narrow lot, and is laid out shotgun-style, one room after the next.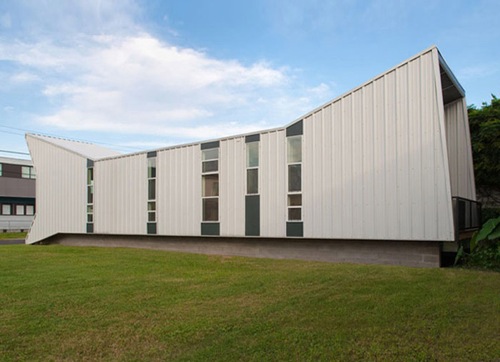 The lot measures 19-feet wide, allowing for a maximum of a 13-foot wide structure. Exterior walls and roof are clad in factory-painted, preformed metal siding, which is inexpensive, durable, and easy to maintain. More importantly, the materials are hurricane-resistant.
The street facade is clad in translucent white insulated plastic panels on each side of the stud structure. Between these panels, fluorescent fixtures provide indirect lighting both for the exterior and interior living room.
Off the rear main bedroom there is a narrow rear porch the width of the home.
The kitchen is airy, with stylish pendants and a breakfast bar.
The house has two bedrooms and one-and-a-half baths. The back bedroom and bath in a shotgun layout would normally be accessed through the middle bedroom. In order to preserve privacy, BuildingStudio designed sliding doors with a hallway that allows one to pass alongside the room, rather than through it. Although low-budget, there is engineered hardwood flooring and ceramic tile in the bathrooms.
The front stoop is key in neighborhoods like these, where so much community activity takes place on the street. Metal grate steps that stretch across the front of the house make for plenty of casual stoop seating.
When finished, New Orleans Neighborhood Housing Services, which promotes and markets low-cost properties, offered the house at a very reduced rate.