Working and living under the same roof can present a plethora of obstacles, especially when work requires easy access to a ceramics studio. When designing the atrium House for a Ceramic Designer and their family in Ljubljana, Slovenia, Arhitektura was presented with the challenge to create a home with ample space for both design work and daily life.
The neighborhood is up-and-coming, so the client requested a private residence that shields itself from the unpredictable construction to come.
With this constraint in mind, Arhitektura needed to be sure that the space could still let in enough natural light to make a pleasant at-home workspace possible. The result is a U-shaped concrete structure with three walls that hide a majority of the exterior windows from the public.
A large central atrium acts as the anchor of the space and lets even more sunlight through. The atrium also allows for easy passage between the living quarters and workshop.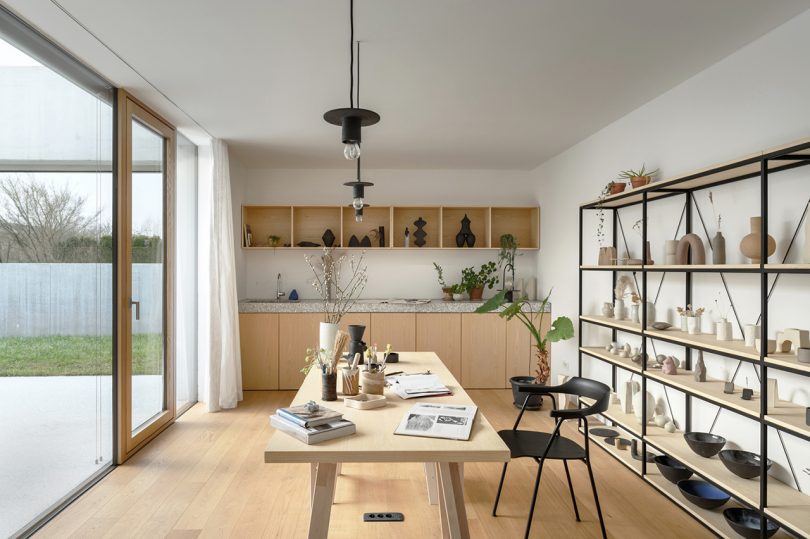 The full ceramics workshop and studio features potter's wheels, kilns, and ample table space. The space opens out to the atrium, which can be used for a variety of outdoor firing techniques when needed.
The living area is an open concept space where a large kitchen, dining, and seating area are located. Since this space is also directly connected to the atrium with sliding glass doors, the living area can be expanded outside during the warm summer months.
In a separate area of the home, a large bedroom, two smaller rooms, and two bathrooms offer plenty of sleeping space for the family.
Photos by Miran Kambič.