An Old Farmhouse in Spain Gets a New Faceted, Light-Filled Design
An Old Farmhouse in Spain Gets a New Faceted, Light-Filled Design
1/15 Photos
2/15 Photos
3/15 Photos
4/15 Photos
5/15 Photos
6/15 Photos
7/15 Photos
8/15 Photos
9/15 Photos
10/15 Photos
11/15 Photos
12/15 Photos
13/15 Photos
14/15 Photos
15/15 Photos
Longing to escape to the countryside to enjoy the Mediterranean sun and surrounding olive trees, a family hired Pablo Muñoz Payá Arquitectos to renovate an old farmhouse in Valencia, Spain. Limited by the existing footprint, the Faceted House goes modern while still honoring its Mediterranean architecture. Thick walls are replaced with glass to create a sense of spaciousness while filling the home with natural light.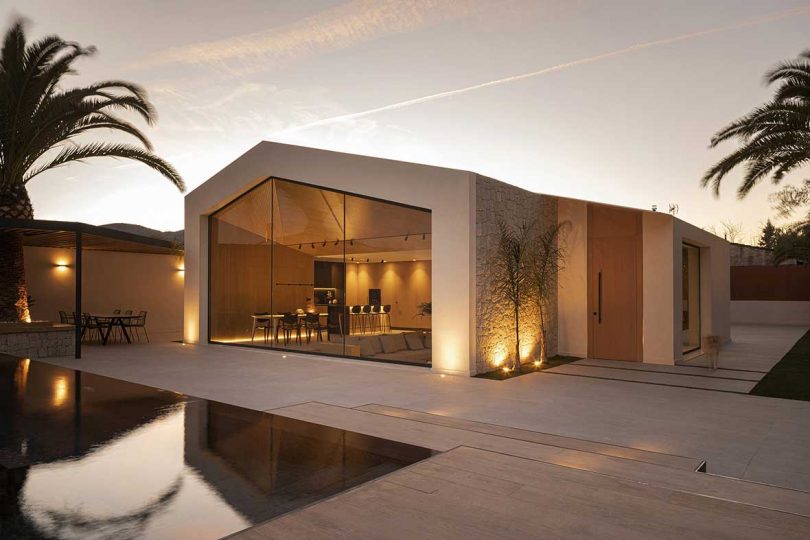 The communal living room, dining room, and kitchen live together with a wall of windows on the side looking out to the swimming pool.
The main living area features a sunken living room for added ceiling height. The old, low ceiling extends up and out with triangular facets to add more volume and open up the views. The new ceiling is clad in sound absorbing wooden panels that also create a modern focal point in the space.
The wooden slats add warmth and texture while bouncing golden light from the sun.
By lowering the living room, the kitchen and dining room sight lines are kept open.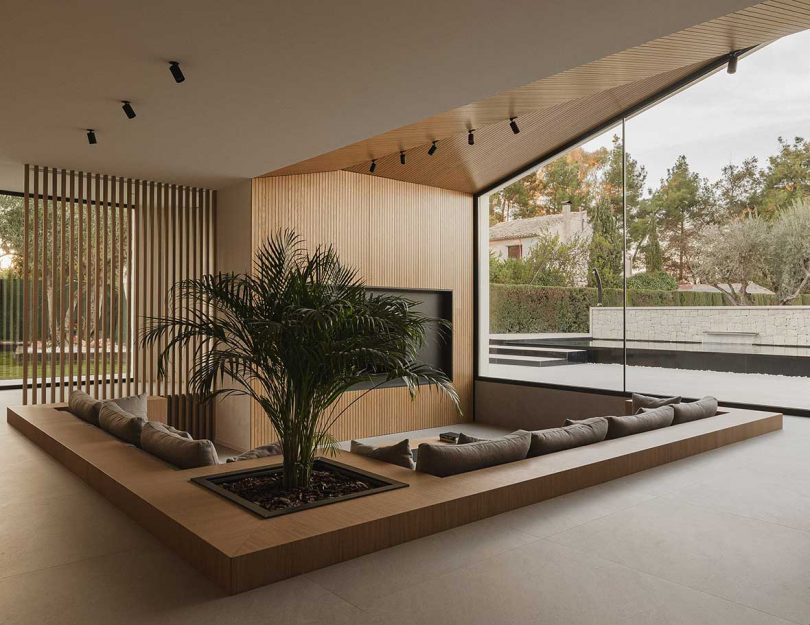 The wood on the ceiling is mirrored on the surrounding frame of the built-in sofa, which includes a built-in planter.
Photos by David Zarzoso.