Ana Kraš is a Serbian designer who graduated from University Of Applied Arts in Belgrade. She started working on various self-initiated and commissioned projects, from furniture design to illustration and photography. She will be showing five new works at Salone Satellite.
M Lamp, 2009
M lamp is a lamp that Ana made for an exhibition called "redesign your mind." It's inspired by a friend who was always putting dresses and scarves on a floor lamp in order to achieve some softer, nicer light. M Lamp has no real lamp shade, only its construction, so you can put over a shirt, a dress, a scarf, a piece of fabric. This way you can change both the amount of the light and the color of the light you want at the moment, but also the look of the lamp.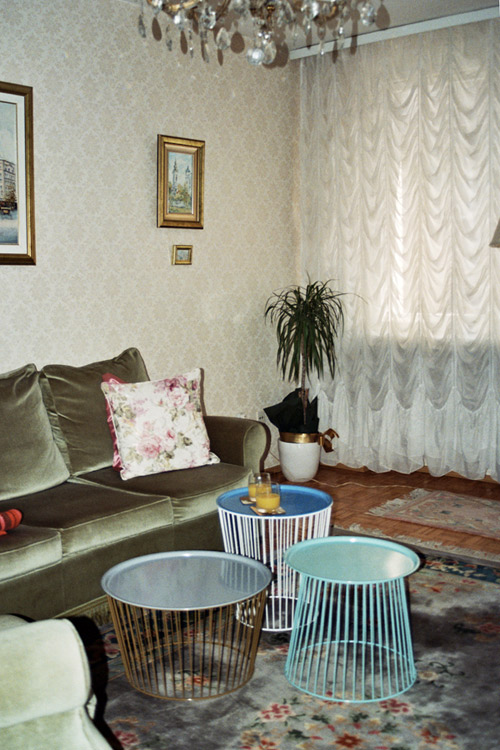 Noodle Side Tables, 2009
Noodle is a side-tables family inspired by plastic baskets for garbage, placed in the corner of any classroom. Noodles are made of steel wire. and on top is a loose circular plate which can be used as a tray. The table-body can be turned upside down creating two different looks. Noodles are made in three different sizes and can create a side table set, or can be used individually.
Ksilofon Clothing Rack, 2010
Ksilofon is a clothing rack made in wood — oak sticks and plywood panels. Construction components are attached with basic wing-screws and pins. There are also some side elements to help organizing the clothes (shelving units and boxes).
Bonbon Lamps, 2010
Bonbon is a family of lamps, colorful strings manually knitted manually over steel wire shape. Cotton that will be used for making prototypes is a leftover from a previous collection of a knitwear company called Ivko-knits.
Hive Lamp, 2010
Hive Lamp is a floor, standing version of the Bonbons Lamp. The body is made of oak wood and the lamp shade is made of coated steel wire and cotton strings. The shade is hung on the wooden console with cottong strings. the position of the console and the height of the lamp can be changed by adjusting the cord. The lamp shade of the Hive Lamp is one of the shades from the Bonbon Lamps family.