Shut up and take my money! This loft makes me want to move so bad I'm already on the phone with my realtor (just kidding, but I thought about it). Loft ESN is housed in The Palmscher Park in Esslingen, Germany which once was army barracks. An agency had been occupying the space in recent years but when they moved out, a family bought the loft with hopes of transforming it into their new home. They hired Ippolito Fleitz Group to make it happen.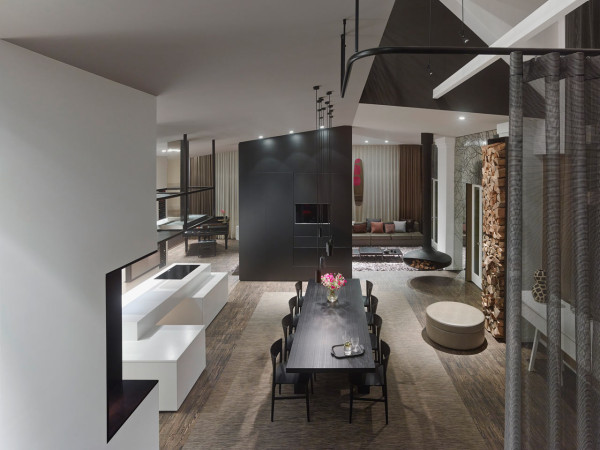 Spread out over 400 square meters (4305 square feet), the loft has wide open spaces and tall ceilings despite obvious organized zones for living.
On the ground floor, there's the kitchen, living room, and dining room that features a long table with crisscrossing pendants hanging above.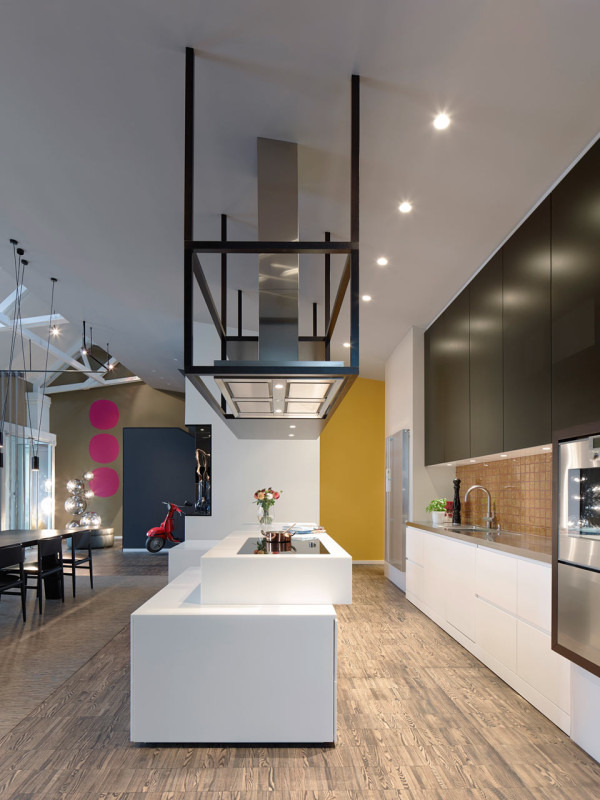 The kitchen is open to the dining room with only an island separating it. The island is made up of three stacked cubes.
The living and dining rooms are separated by a massive wall that's covered in colored glass on the living room side. A flat screen TV is integrated into the wall.
Glass doors lead out to the terrace. The wall surrounding the doors is mirrored with a branching pattern of lines.
A suspended, wood-burning fireplace becomes a sculptural feature in the room.
Touches of pink are used throughout ramping up the color palette of the loft.
Upstairs is space for the parents. A workstation was incorporated since there wasn't room for an office.
The bedroom is completely sealed off to not let any light enter for maximum sleep. A large gray circle is painted within the warm dark blue color of the ceiling.
Photos by Zooey Braun.