When two contemporary art collectors in Kansas City, Missouri, wanted to build a new house to exhibit their extensive collection, they looked to Hufft to make it happen. The couple had been collecting art, including paintings, photography, and sculpture, over the course of 20 years and that required a sub-grade gallery space, the new "heart: of the home, with proper lighting and climate control to display it. While a good portion of the art resides in the gallery, the rest is displayed in the other hallways and atriums, or "arteries", which is how the home got its name – the Artery Residence.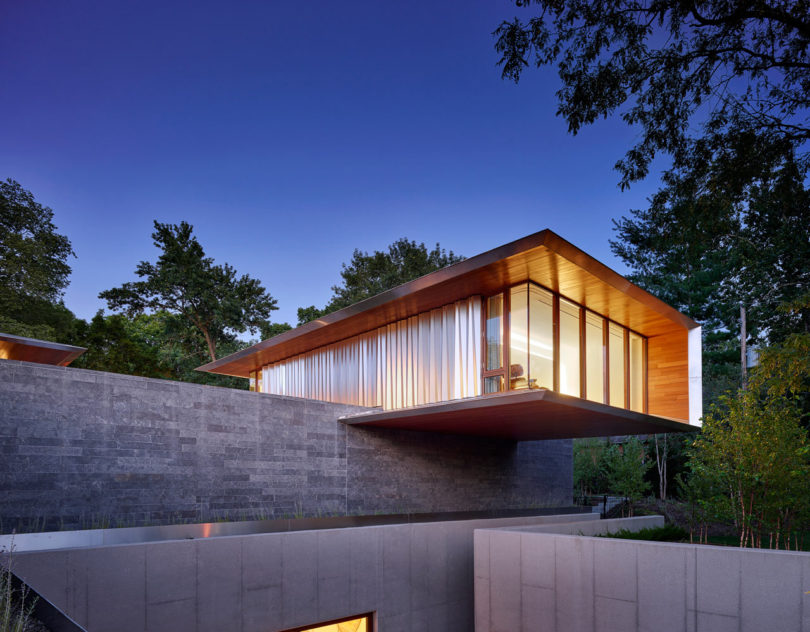 The exterior displays its own share of artwork with large-scale sculptures installed around the garden.
The upper level houses five bedrooms – one for the homeowners, two for their children, and two additional for houseguests. Aluminum louvers help shade the interior.
The limestone clad ground level contains the main living spaces, including the kitchen, dining room, living room, and two offices.
The non-gallery part of the home is just as jaw-dropping with rich materials, contemporary furnishings, and additional artwork.
The top floor of bedrooms benefits from floor-to-ceiling windows that frame the surroundings like photographs.
Photography by Michael Robinson.