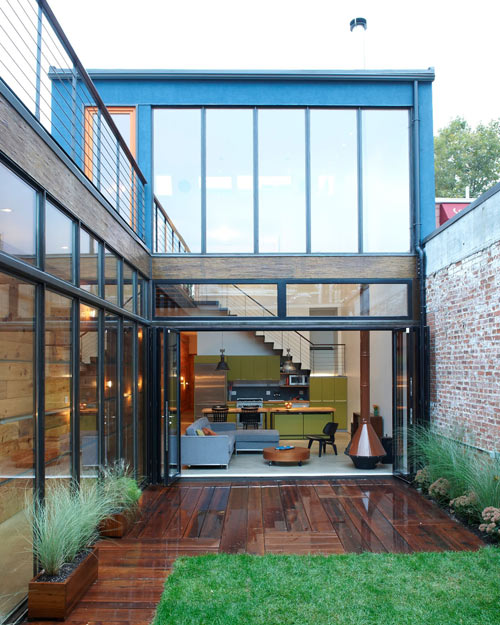 Atrium House by MESH Architectures, located in Brooklyn, NY, is a rare find in that they did not have to comply with the usual NYC residential zoning regulations. Due to the pre-existing structure already filling the entire 22'x100' lot and the fact that they were not enlarging the house, meant that they were able to avoid the 30′ rear yard requirement and were able to build the house around a courtyard.
The unobtrusive front exterior leads you into a two-story space that is both modern and industrial. The house has an indoor/outdoor feel constructed with large floor-to-ceiling windowpanes and folding glass doors, which gives an open feeling. By building the house around an atrium, it allows for much of the space to open up to the outdoors and allows for light to fill the home. The design of the house offers the owner lots of privacy without the house feeling closed in.
Encased in the rustic pine board walls are steel struts that allow for the mounting of lighting, designed by MESH, that is made from plumbing hardware. You might remember that last year we featured MESH Architectures' plumbing pipe lights.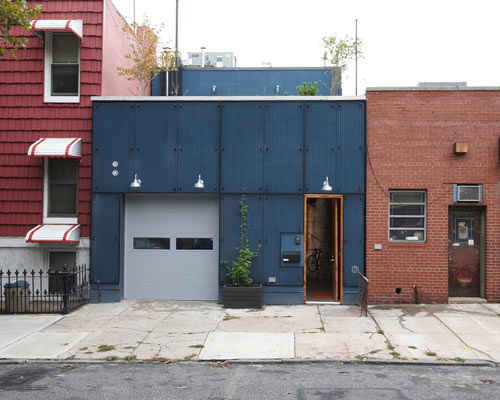 Photos by Jason Schmidt.