Located on a 5,000-square-foot lot in the Magnolia neighborhood of Seattle, the Aurea Residence was designed for a young family with privacy and views in mind. Designed by Chris Pardo Design: Elemental Architecture, the 3,300-square-foot structure is made up of four forms that all surround a Japanese rock garden. The central courtyard helps maintain privacy while at the same time flooding the interior with light.
To aid with privacy, the front door is covered with a black and white translucent photograph inspired by Bernice Abbott.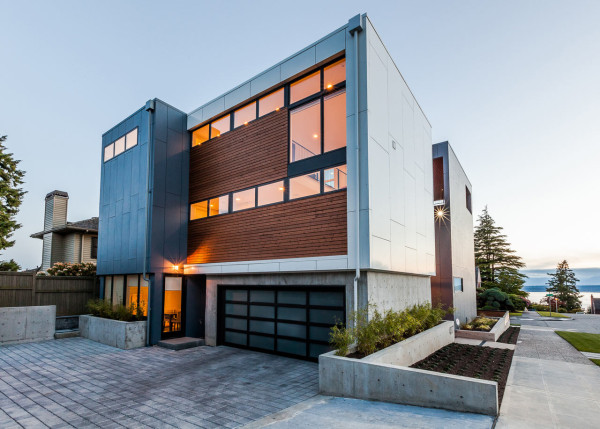 The lower level is made up of a master suite with a separate bathroom volume that has a recessed tub. It also has a mother-in-law unit and a two car garage.
The second floor houses two bedrooms, the kitchen and dining room, a living room with an open roof deck, and a green roof right off the living room.
The third floor features another master suite, a kid's playroom, and a covered roof deck that has incredible views of the Puget Sound.
The master bathroom and closet are in their own structure connected to the master bedroom through a small, window-filled hallway.
Photos by Dale Tu.