Artists with creativity running through their veins like blood are rarely able to stick to one discipline – with all of that inspiration just begging to be let out, it's bound to overflow into more areas than the initial starting point. A prime example of turning a bounty of talent into a successful business is New York-based Alex Proba, who founded Studio Proba back in 2013. The multidisciplinary design studio focuses on graphic, environmental, and furniture design as well as more traditional artwork and relies on Squarespace to help her balance her creativity with her business.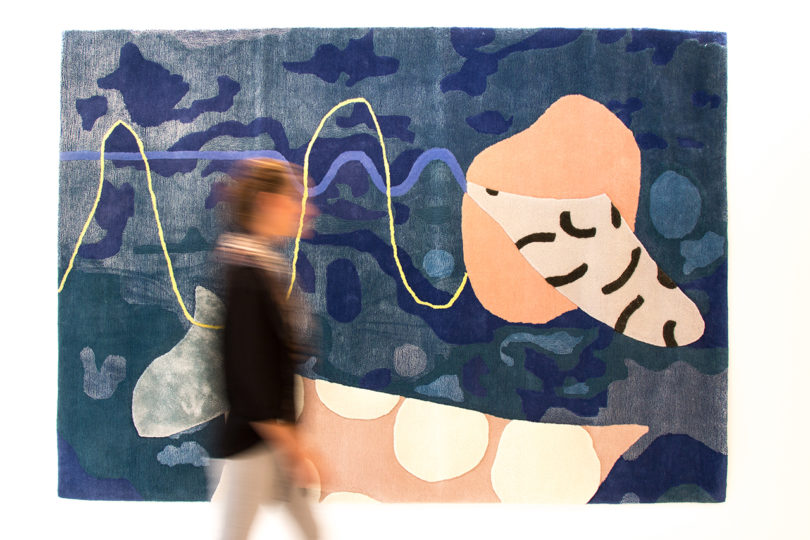 Through Studio Proba, Alex has collaborated on wallpaper for Texturae, collage work for Loeffler Randall, and even a limited-edition furniture collection with Bower. Her latest solo work features large murals as well as a collection of rugs and ceramics. (Alex also designed the logo for Design Milk's Milk Stand!)
Studio Proba is so widely multidisciplinary that we wondered how Alex's love of art and design brought her career to its current destination. Thankfully for her the path all makes perfect sense, and in 2018 she left her full-time job to put all of her love, passion, and creativity straight into the studio's work.
"I am a graphic/brand studio but also do environmental/spatial design, as well as furniture and home products, as well as art and murals. It's a lot to make sense of for the viewer. For me it all makes sense. I started my career in architecture and then fell into graphic design and branding, and that evolved to art as well as furniture and product. I take it day by day and am not trying to create a distinction between my art and design work. I take client work and commissions as they come in and I try to make every day different. Sometimes I am only painting, the next day I am working on a branding project, and then another day I am designing new products for my home collection. I am not a creature of habit or routine – I need exactly the opposite to be happy and to activate my creativity."
Alex trusted Squarespace with helping her run Studio Proba from the start, appreciating how easy it is for her to display her work as well as run the e-commerce side that keeps her shop in business.
"I started using Squarespace 6 or 7 years ago, when I wanted to get something out into the world that is simple in showcasing my work as well as easy to use for e-commerce. I needed something that is like me – ever changing and able to adjust quickly. Squarespace allows me to add work quickly but it also gives me all the tools to run a small studio shop, which is easy to use for the consumer as well as me."
Creating in an extremely large scale can be intimidating for any artist, especially when you're used to the confines of a computer screen on canvas. Alex fell into designing murals three years ago when friend and former boss, Aaron Robbs, asked her to create a 60-foot long mural for Dropbox HQ NY. With no idea how to make it happen or where to start, she took a huge leap and jumped in.
"I feel like once you have a challenge like that in front of you you just figure it out. And I kept thinking what is the worst that can happen, and it was painting over and starting again which is ultimately not bad at all. So we just did it and it worked out great, and ever since I've been painting a lot of murals in different sizes and heights. I've gained so much more knowledge of how to do it and what not to do, but I feel like you only learn those things if you do it and you will grow every time. What I love most is how murals (on whichever surface: wall, table, ceiling) completely transform an environment – they add life and personality. They make you smile when you see them. They are an emotion for me and I love that."
Using her background in interior architecture and furniture design, Alex says she nearly always has an intense urge to bring her work further to life. With that in mind, she turned her flat 2D art and design work into 3D in the form of rugs.
"Everything starts with 2D sketches for me, and to take that sketch and make it something real and tangible fulfills me and makes me happy. Same with mural work – even though it ultimately remains 2D, bringing it to a large wall or object makes it more alive for me. I am currently working on a 3D mural for Industry City, so I am super excited to see how that will turn out."
Alex is also known for A Poster A Day, a project that ran from 2013 to 2017 and resulted in the creation of 1,460 posters in all.
"I started A Poster A Day over 4 years ago purely out of creative misery. At that time I wasn't happy with my day job and the work I was producing. So one summer night in 2013 I found myself stuck in the goo of a creative block while working on a client project. In hopes of shaking it loose, I started to play with random images, shapes, and hues. With no means did I have a goal in mind, but I started to create pleasing designs and it was satisfying, freeing, and addicting. So I made a pact with myself: repeat the process every day for the next year with only one limitation: time."
Around 100 days in the project became something of a public phenomenon. For the second year of A Poster A Day, Alex allowed people around the world to submit their stories for her to translate and called it Yours. The third year was Ours and the project's community members were asked to submit a question and Alex would answer it visually. The fourth and final year was dedicated to celebrating women, everyone was invited to submit a story about a woman that touched their life.
"I feel like A Poster A Day was the path to finding myself as an artist and designer rather than a tool for process or creation. Making something every day made me understand what I like making, what I am good in, and that made me grow into who I am today. That doesn't mean that I haven't been growing and evolving after the project ended of course – it's more like I have lost the fear of sharing work and being judged and am more confident to just create."
The main takeaway for staying creative and expanding your talent is to keep on creating, every single day, and put your work out there for the world to see. Your confidence will start to grow, as will your skills and audience.
Ready to get to work? Take the first step with Squarespace, all-in-one website builder that provides everything including domains, website building tools, analytics, and marketing tools that empower people with creative ideas to succeed. Use coupon code DESIGNMILK at checkout to get 10% off your first purchase.