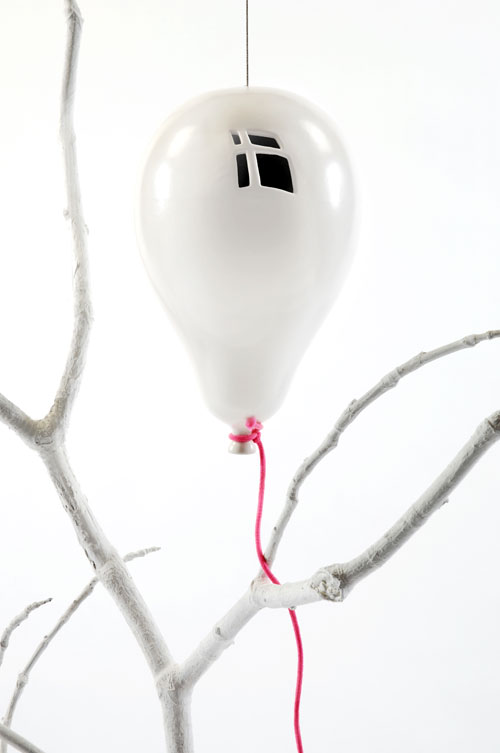 This balloon-shaped nesting box for birds was designed by Renata Manau of Biscuit for Hidden Art Select. With the attached string, Balloon evokes memories of the traditional British stories of Winnie the Pooh. Made in the UK, energy efficient, environmentally aware manufacturing methods have been implemented and recycled packaging materials are used.
Renata Manau is an award-winning designer who, after graduating from the Royal College of Art, has continued working on small scale ceramic and glass production under the trademark name Biscuit, based in the heart of East London. Driven to produce and create inspiring, iconic pieces, her recent ideas have lead her to focus on environmental concerns with a twist. She has actively chosen to manufacture her work in Stoke-on-Trent, once the heart of the ceramic industry in order to call attention to the ceramic resources and skills still available there. She has been awarded funding by The Arts Council England and published in design journals and magazines internationally.
The fourth Hidden Art Select range launches during the London Design Festival, at the Hidden Art Design Store at 100% Design in September and online at the Hidden Art shop. Seven British designers deliver a unique range of design for the home, evoking British urban and rural imagery. The designs include references from historical London buildings to classic British fairy tales. In the production of Hidden Art Select 2010, Hidden Art focused on having minimal impact on the environment by developing the range through sustainable processes and materials. Since their selection, the chosen designers have worked closely with the Hidden Art team to transform their passion into products, creating the collectibles of the future.

Design From Around The Web