Bang & Olufsen's BeoVision Eclipse already delivers a luxe home entertainment experience – a flagship 4K OLED television demarcated from the rest of the competition by the incorporation of its very own motorized floor stand – the sort of head-turning feature capable of transforming turning on and off the set into its own subtle form of entertainment. Even more conspicuous is the set's 450 watt 3-channel SoundCentre soundbar bisecting the system's nearly square form factor, previously available in either a sleek aluminum or 5 fabric options. You can now add oak to the mix.
Kresten Bjørn Krab-Bjerre says:
We feel obliged to keep innovating the use of a material that has played an integral part in our products since 1925. Oak is a material that patinates beautifully, and by adding this option to our flagship TV we reinforce our commitment to provide people with the flexibility to match our designs to their personal interior style.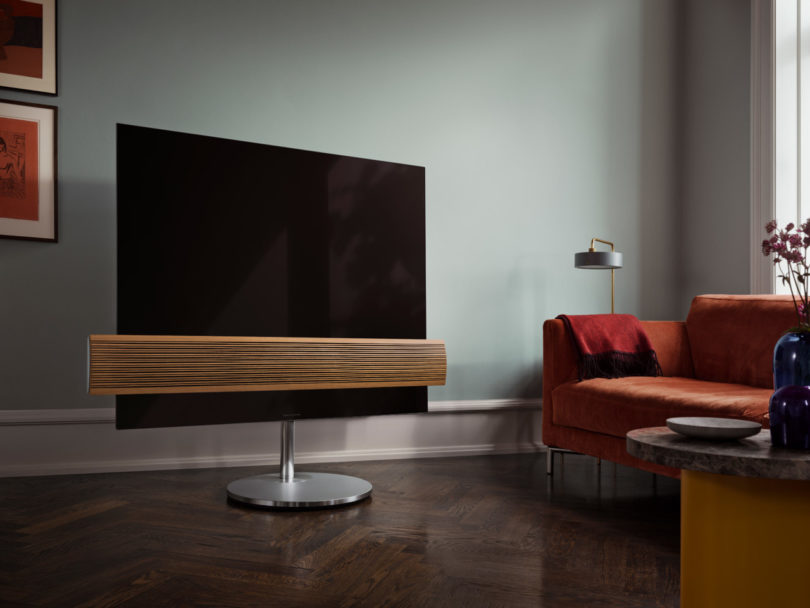 Embellished with fabric or aluminum across the soundbar front, the original BeoVision Eclipse is a confident, if not somewhat ostentatious contemporary presence. But now partnered with a genuine handmade oak speaker cover, the BeoVision Eclipse Wood Edition takes on a warmer and elegant architectural personality, one disguising the rather capable top tier specs hidden within, developed in partnership with LG Electronics (including their webOS and category leading 4K video processing capabilities). In sum, the simple addition results in a sophisticated and handsome transformation, adding a layer of tactile and timeless warmth specifically associated with wood.
Note, we are talking about a television with an $11K price tag for a 55″ model, or an even more jaw-dropping $16K retail price for the 65″ version. Those already blessed to own the BeoVision Eclipse can upgrade to this wood enhanced incarnation for just $1,295.

Design From Around The Web