Architect David Jameson completed Barcode House in Washington, DC earlier this year. The project entailed creating a freestanding, modern addition to an existing, vertically-oriented urban row house. The extension is composed of a completely see-through, two-story, glass structure in front of a narrow concrete tower. A lyrical pattern of black steel rods that resemble a barcode run across the two glass façades, hence the name.
Notice the lines on the ceiling of the interior space, which echo the steel rods that adorn the exterior.
The kitchen is done in a completely monochrome palette, with stainless steel appliances and minimal furnishings, including backless bar stools. The extension houses a new kitchen, living room, balcony, and roof deck. The bedrooms are located in the concrete tower at back.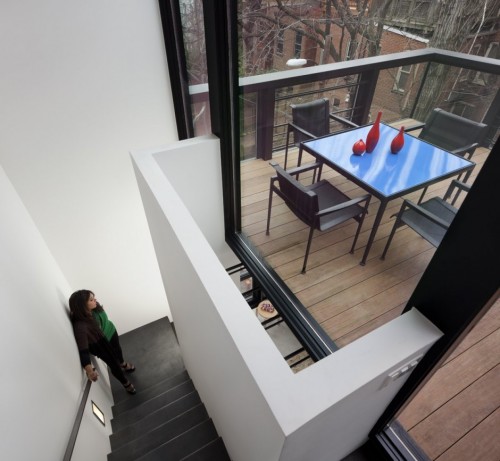 The glass extension has its own staircase. In fact, the extension can only be accessed from the original row house through a door on the first floor.
The living room seems high enough up that occupants would be unbothered by traffic on the sidewalk and street.
A close-up of the barcode.
The little balcony off the kitchen also features a barcode inspired railing constructed from the same steel rods.
Photos by Paul Warchol Photography.