LEIZ founder Ilze Godlevskis says she is "refining the beauty and art of lazing around. I use traditional, artisanal techniques with luxe yarns to make indulgent home life more contemporary and comforting." Her interior products are knitted with 600 needles on a manual, industrial machine.
I am fascinated by new materials and I loved this 'wooden leather' by Marlene Huissoud made from bio-resin produced by the common honey bee. This new material can be used for everything from furniture design to fashion and surface design.
Giopato & Coombes works with artisanal glass blowers on the Venetian island of Murano – Bolle is their newest creation, a collection of lights that look like bubbles suspended in mid-air.
Colour Provenance by Laura Daza is a visual investigation into the ancient origins of color pigment.
"Different colors, shades and tints have the power to evoke mood and emotion, but it seems that the origins and journeys of these pigments are often forgotten. Today, color is a commodity industrially produced for mass consumption. Through developing an understanding and knowledge of how color was sourced, crafted and utilized in the past, I hope to both celebrate the ancient rituals and alchemic techniques and encourage us to once again appreciate color provenance," said Laura.
"A Cow in a Landscape with a Farmstead Beyond" by Milton Priest is made from oak, porcelain, leather, stainless steel, Carrara marble, and finished with shellac. I love the udders!
In powder-coated mild steel, oak, and wool, Harold is also by French designer Milton Priest.
And a third design by Priest, the Peanut Gallery's cage is made from powder-coated steel and carrara marble with an oak perch, while the crow is made from cast resin and cast bronze.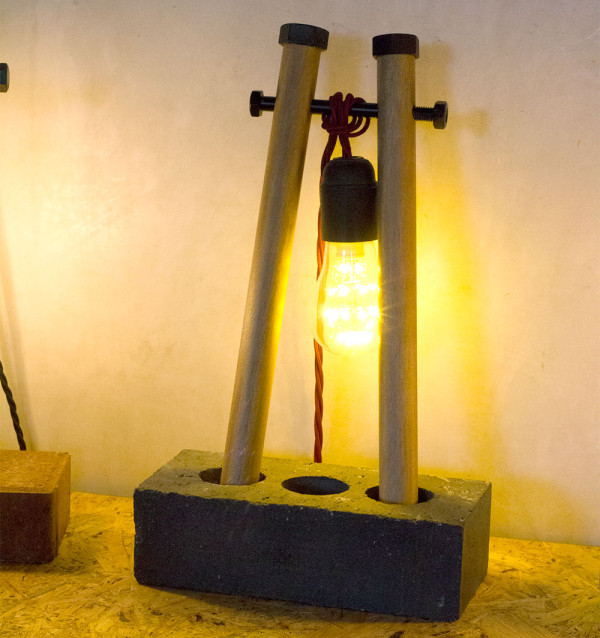 Finally, Street Label is a lighting collection by Salsabeel Amin. She says, "The streets are one of the main sources of frugal innovation where a lack of resources leads to genuine and spontaneous creations. As a designer, it becomes more difficult to achieve this purer, natural way of making things. Street Label stands at a midpoint between street made creations and designed home products. The collection celebrates the 'quick fix' approach commonly conducted in street innovations. In the spirit of street behaviour, the floor lamp is assembled in a way that that compels the user to interact and have an understanding of the objects they own."