The Lollipop Shoppe launched Bench 10 — a public design installation — during the London Design Festival to mark the launch of their London store.
Contemporary public furniture today is largely utilitarian, to be sat on or eaten off. As a functional object offering the benefits of rest and reflection, time-out in a busy world, The Lollipop Shoppe felt that the humble bench deserved an updated, innovative design that really celebrated its possibilities. With this in mind, along with other recent public art initiatives that have taken the capital by storm, they have invited ten leading designers to create their own interpretation of the public seat, for a micro-exhibition. I wish I could have been there.
Descriptions below are directly from the designers.
Plaid Bench by Yael Mer and Shay Alkalay of Raw Edges
In this project we would like to try to translate the principle of plaid fabric into a wooded bench that can be suitable for outdoor uses. It comprises three different benches that interlock to create a pattern of horizontal and vertical stripes. Plaid Bench is made up of a plywood bench painted white, a pine bench painted in a mixture of blue and yellow stripes, and a hardwood bench.
Stripes arrangement is a common element in iconic street benches, whether it is wood, metal or plastic; many of the archetype benches happen to be shaped in this way. Stripes are also the fundamental element in fabric check pattern where they arranged together in a vertical and horizontal fashion. Making a graphical connection, Raw-Edges created large set up of benches that interlocked to each other perpendicularly in order to achieve a Plaid/Check patterns.
Made of wood.
Spitalfield Bench by Cecilie Manz
A bench in a city environment is of course about resting your mind and body for a while, but also about taking part in the life around you. A bench for sore legs and inventive spirits. Made of galvanized steel and larch wood.
Solid Shell by Decode / voonwong&bensonsaw
As its name indicates, the shell chair has been designed by looking at how an organism in nature develops its structure. Layer by layer like a tree or a sea shell, and based on a repetitive but adaptable equation, the 4mm wire rods forming the seat, follow the circular rim of the chair. Equally, we wanted the chair to have a very straightforward and welcoming appearance. The softly angled concrete base provides a simple mechanism to anchor the lightweight structure of the chair in public spaces.
Symmetry, minimal structure and comfort characterize this outdoor and indoor seat.
Made of cast concrete base with seat in powder-coated steel wire rod
A-bench by Felix De Pass
A-bench is specifically suited to busy open public spaces where space is at a premium and short resting spots are required. Conceived with both economy and comfort in mind the bench has an angled seat that was inspired by an ancient African stool. Made from mirroring and repeating only two different components A-bench has a symmetry that allows it to be approached and used from every angle. Made of 3mm folded mild steel and solid oak wood.
Stair by JDS Architects
Mainly of the design and what influenced it: A public bench as a reference to urban conditions. Stair is a bench with multiple seating levels, allowing people to sit in a way that is less prescribed, more flexible and more social. Constructed with triangular prisms, that are connected in such way, they form an infinite variety of stair-shaped seating platforms. Please, take a seat. Made of plywood prototype.
11 Gallon Seat by Klauser & Carpenter
"Within this project we were particularly interested in the area of public seating. Inspired by the restrictions of the Bench 10 brief, we started to think about public seating that doesn't need to be fixed to the floor. The base for our solution is a recycled plastic container, previously containing 11 gallons of mango chutney. The container is closed with a wooden plug onto which the seat is attached. To weigh it down the container can be filled with water, sand or any similar ballast. The seat is now too heavy to carry it away, but it will remain maneuverable within it's location.
The 11 Gallon Seat has its place in the gray area between private and public space, in the front garden, on the side walk or on the disused bit of grass across the road. It would be installed by an individual rather than the council, a kind of guerrilla public seat, avoiding the need for planning permission by its semi-permanent nature. For the installation at Spitalfield's Market we are proposing 3 individual seats and a small table."
Made of coated plywood seat and recycled mango chutney container. Can be weighted down with up to 50 kg of sand, water or similar.
Bench by Richard Shed
I took inspiration from the different stages of timber production. After trees are felled and have been cut into planks, thin strips of wood known as stickers are placed systematically in-between the layers as planks are stacked on top of one another. This allows air to circulate around the wood and for it to dry without warping and shrinkage. From this process I explored way to create forms which have a volume yet are efficient in terms of materials and manufacturing process. The shape of the bench denotes where it came from. Made of FSC-certified Iroko.
Pop Rivet by TAF Architects
The bench TAF have been working on is a combination between two traditional handicrafts. We used the visual expression from the antique Swedish Bentwood boxes for keeping butter. They were traditionally made of layers of wood bent around an oval shaped bottom held in place with birch wood lacing. The wood is translated into swept aluminum sheets and instead of laces we used big Pop Rivets. The construction and the production method is very pragmatically chosen and makes the project very easy to produce and use.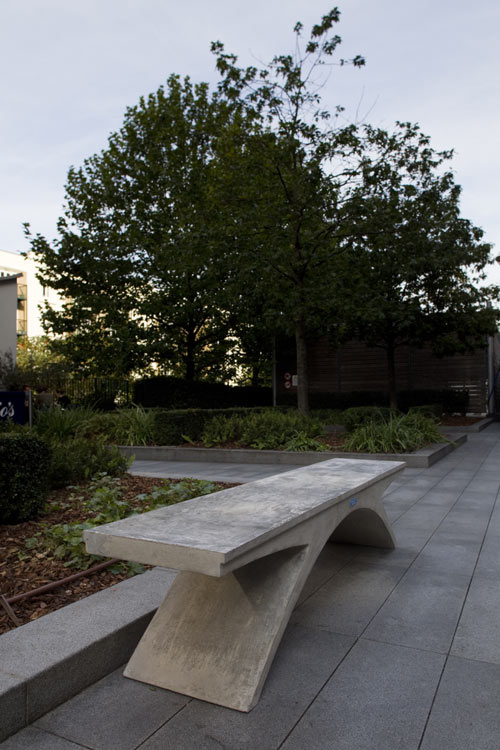 Bridge Bench by Freshwest (Marcus Beck & Simon Macro)
Our bench is a celebration of the structures that cross the motorways of Britain. There is elegance and simplicity in the engineering of these bridges where form really follows function. The material qualities of these cast concrete structures echoed the requirements of our brief, to produce a low cost durable bench that is not easily moved. Just like motorways, the thoroughfares of our cities are often busy and stressful places. Bridge Bench is Freshwests' subtle reminder that there is always time to take a break. Made of cast concrete.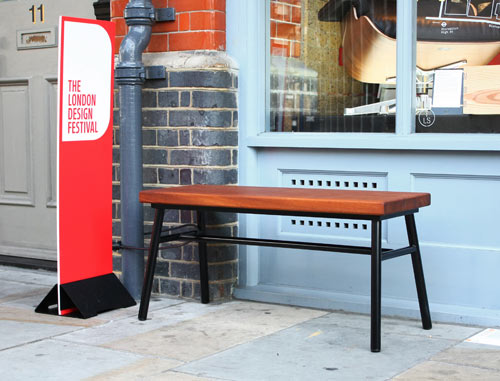 Bench by Michael Harris from Offcut Design
A simple bench inspired by traditional furniture found in the home, whilst using materials commonly used for outdoor public seating. Made of powder coated mild steel frame and Iroko seat.
Heavy Metal Bench by Michael Marriott and Anthony Burrill
Text provided by Anthony Burrill. Made of laser-cut galvanized steel.