During the London Design Festival, Benjamin Hubert launched five new designs for De La Espada.
Descriptions below are from the designer.
Silo
Turned Portuguese granite storage/side table for magazines, soft goods etc finished with an ash surface. Inspired by grain storage devices with its crafted stone aesthetic, the Silo tables utilize the space normally reserved for a solid base or table legs, as storage. The tables' focal point is created by a graphic interpretation of a traditional grip feature cut into the timber surface.
Gabion
A pedestal dining table with a metal cage base containing the weight that creates the structures stability. Subvertising the idea of traditionally hiding ballast in pedestal tables, most commonly sandbags, the dining table utilizes an overt granite ballast as its focal point within a steel frame with ash surface.
Coracle
A hand-woven leather lounge chair with stitched automotive leather and a leather-wrapped steel frame. This large lounge chair is inspired by the small "coracle" boats traditionally used in Wales since the Bronze Age, with its woven construction used to support the user. The crafted "tri weave" is complemented by a leather wrapped steel frame with industrial reference points found in bike handles, creating a tactile touch point for the chair.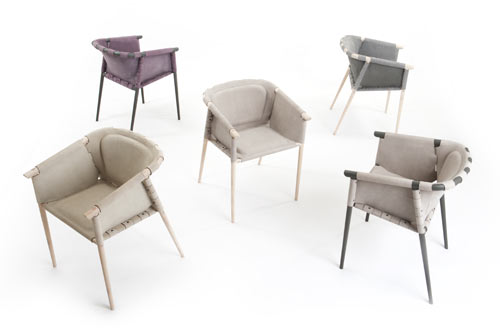 Cargo
A leather panelled dining/occasional chair. Hand-crafted self-supporting leather panels attach to a light Ash timber frame with mechanical fixings. Cargo is inspired by the automotive industry's use of leather, specifically in convertible soft tops with pronounced fixing details and tailored panels.
Quarry
Hand-turned, thin-walled marble pendant lights with a roughly finished interior, to add texture and describe the story of stone production. Quarry utilizes the marble's translucent properties to diffuse the light and reveal its veining. The traditional material is offset by the use of an LED, which allows the large hand-turned internal cavity to remain open and uncluttered. The interior surface is reminiscent of the first cut by renaissance sculptors to rough out a form.