We continue to walk the aisles of the Javits Center covering the 2014 International Contemporary Furniture Fair (ICFF) and all its new, modern wares. If you missed Part 1, take a look here.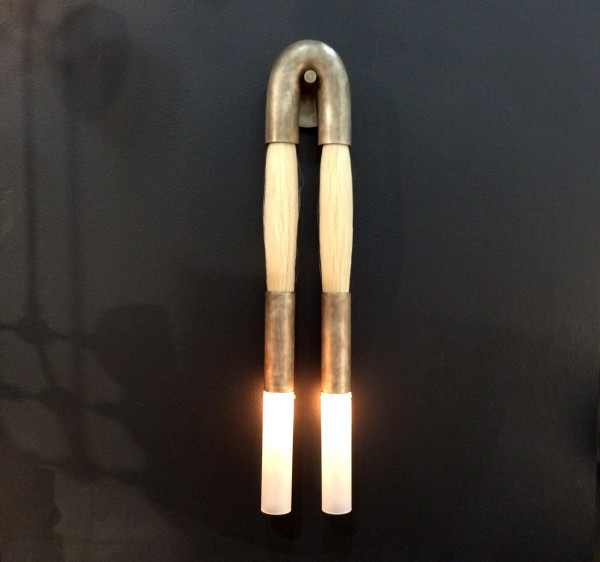 Every time Apparatus launches new products, we get excited. This year was no exception. I mean, they've managed to incorporate horse hair into their lighting! This is the Horsehair sconce which had us pretty intrigued.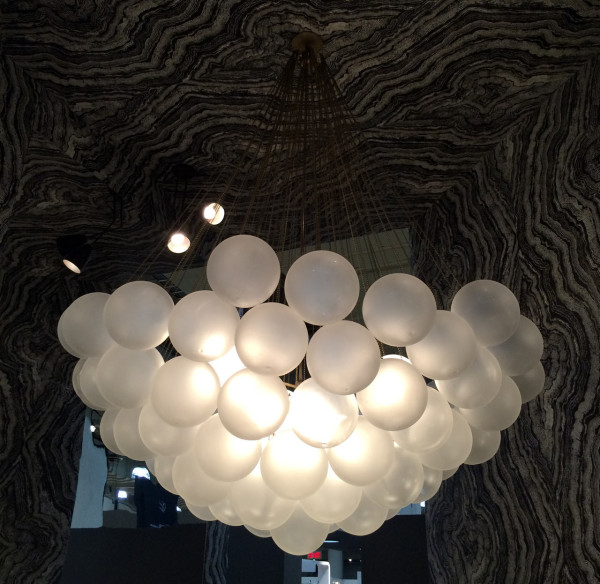 Using frosted glass orbs, Apparatus supersized their Cloud chandelier and it's stunning!
egg collective uses solid shapes to create the unique Nutty Magazine Rack.
We fell hard for this woven textile stool/ottoman from Hinterland Design.
Designer Frederick McSwain created six wall sculptures, called Family Tree, that pay homage to the people, places, and things that have made up Bernhardt Design's rich 125-year history.
Also from Berhardt Design is the Harper rocker by Noé Duchaufour-Lawrance in which the designer took inspiration from the Windsor chair to redefine the all-American rocking chair.
Flowerbox makes vertical wall gardens easy with a variety of modern wall planters.
The FollowMe table lamp is not only portable, it's rechargeable. Designed by Inma Bermúdez for Marset, the lamp can be used indoors or out since it requires no electrical outlets for use.
Gabriel Scott always knocks it out of the park with their clean, contemporary designs that always have an edge. Mixing metals and combining metal with glass and marble are what they do best so it's always exciting to see what they come up with.
A close-up look at one of the new chandeliers from Gabriel Scott. It's like orbital gemstones!
harald bichler_rauminhalt showed some really fun lighting pieces designed by Konrad Friedel.
This credenza from Moving Mountains has doors and drawers with a fun, confetti-like pattern.
Seletti presented some cool lamps, including this one that looks like the shades are built within metal trusses.
Beautiful details on this ash wood lounge-like daybed where the crescent shaped base holds the headrest. Designed by Vonnegut / Kraft.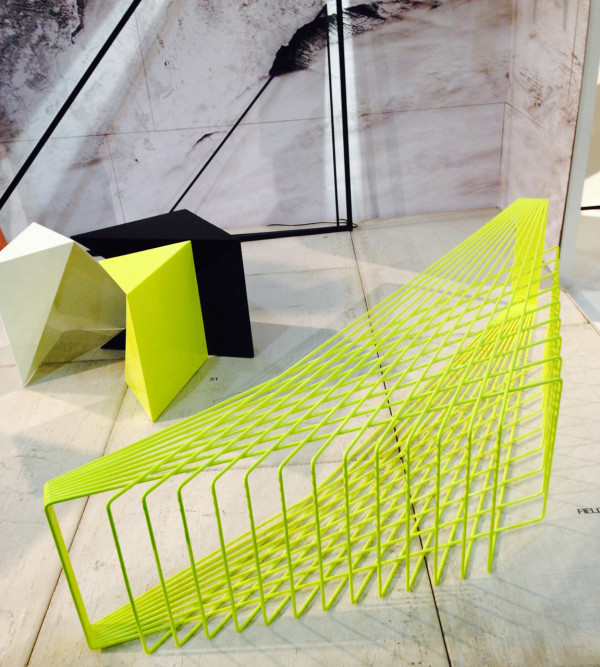 TJOKEEFE brought the neon with their graphic metal tables that play with geometry.
Graypants brought a new collection of lighting called Kerflights where the shades feature the unique kerf pattern.
Tom Kundig, of Olson Kundig Architects, designed this modern door knocker in glossy red.
Remember when we featured the work of Zieta Prozessdesign and their furniture that looks like it's blown up? Well, they've expanded the steel stool collection to include ladders, hangers, wall hooks, tables, you name it.
Wilsonart held its annual Student Chair Design Competition and this one, "Infinite" by Jenny Trieu from the University of Houston, took home the prize.
Stay tuned for Part 3 (and 4)!