Biography Face Oils Create an Experience for Your Senses
Biography Face Oils Create an Experience for Your Senses
1/11 Photos
2/11 Photos
3/11 Photos
4/11 Photos
5/11 Photos
6/11 Photos
7/11 Photos
8/11 Photos
9/11 Photos
10/11 Photos
11/11 Photos
The mindset that the Earth is the ultimate source of beauty is behind clean skincare brand Biography and their face oils. That knowledge was only reiterated once they began sourcing ingredients and discovered the multitude of ways the words 'natural' and 'sustainable' can be taken advantage of. Mainly through overstripping, over-planting or overtaxing a piece of land, or not caring enough about the human beings doing the harvesting.
We realize that the only products you love (or need) are the ones that make for a real change, a meaningful difference, a new chapter in your biography. Thus the name was born.
Biography individually selects the ingredients for their face oils with purity, potency and integrity in mind. Hand-picked fresh ingredients from small fair trade suppliers and their own proprietary formulas make their products like no other. What you won't find: cruelty, parabens, fillers, mineral oil, preservatives, alcohol or water. All oils are vegan, naturally scented and not tested on animals.
While what's inside each bottle is incredible, what's outside is good, too. Most of the materials have already been recycled – and can be reused or recycled again – or come harmlessly from nature, right down to FSC-certified paper and vegan soy-based ink. A special coating protects the actives in each formula from UV-ray degradation. And a protective cotton pouch is lined for leak-resistance and can be further put to work as a travel bag or jewelry pouch.
Our products not only treat you well, they're also designed to be a treat to see, have and hold. Making them lovely is our way of honoring the contents within.
Beyond Biography's formulas and interior packaging lies their exceptional exterior packaging. Art Deco-inspired fonts, modern graphics and vibrant colors share the brand's power, intrigue and whimsy. The identity was created by New York-based artist Adrianne De Loia, who reinterpreted how natural products can be seen as intelligent and desirable.
Long June Face Oil is ready to calm even the most sensitive or oily skin by clearing redness (including rosacea) and inflammation with its deeply moisturizing dry oil. Soothing and calming, apricot seed oil, camellia seed oil and chamomile oil are the superstars in this bottle. These drops are lightweight and non-greasy, making them work beautifully under makeup.
Golden Ray Face Oil works for every skin type, including combination, to boost collagen, improve elasticity, add suppleness and blur fine lines with its moisture. French marine algae, carrot seed oil and fruit seed complex join forces in this formula to create a radiant, sunlit glow with a clean, bright and floral scent.
Petty Grudges Face Oil uses restorative rose actives to rejuvenate dry and damaged skin, improve elasticity, soften fine lines and wrinkles, diminish dark under eye circles and repair sun damage. This formula is best for normal to very dry skin. Rosehip seed oil, evening primrose oil and rose geranium leaf oil work their magic and leave a green, citrus, earthy scent behind.
Few Words Shave Oil protects both skin and hair, preventing bumps, razor burn and irritation wherever you shave. Soothing and nourishing actives moisturize itchy, tight skin and prevent ingrown hairs and nicks. This oil even promotes beard growth, if you're growing one. With a woodsy, spicy, lemongrass scent, and hard at work radish seed oil, borage seed oil and pumpkin seed oil, this formula is one you'll want nearby.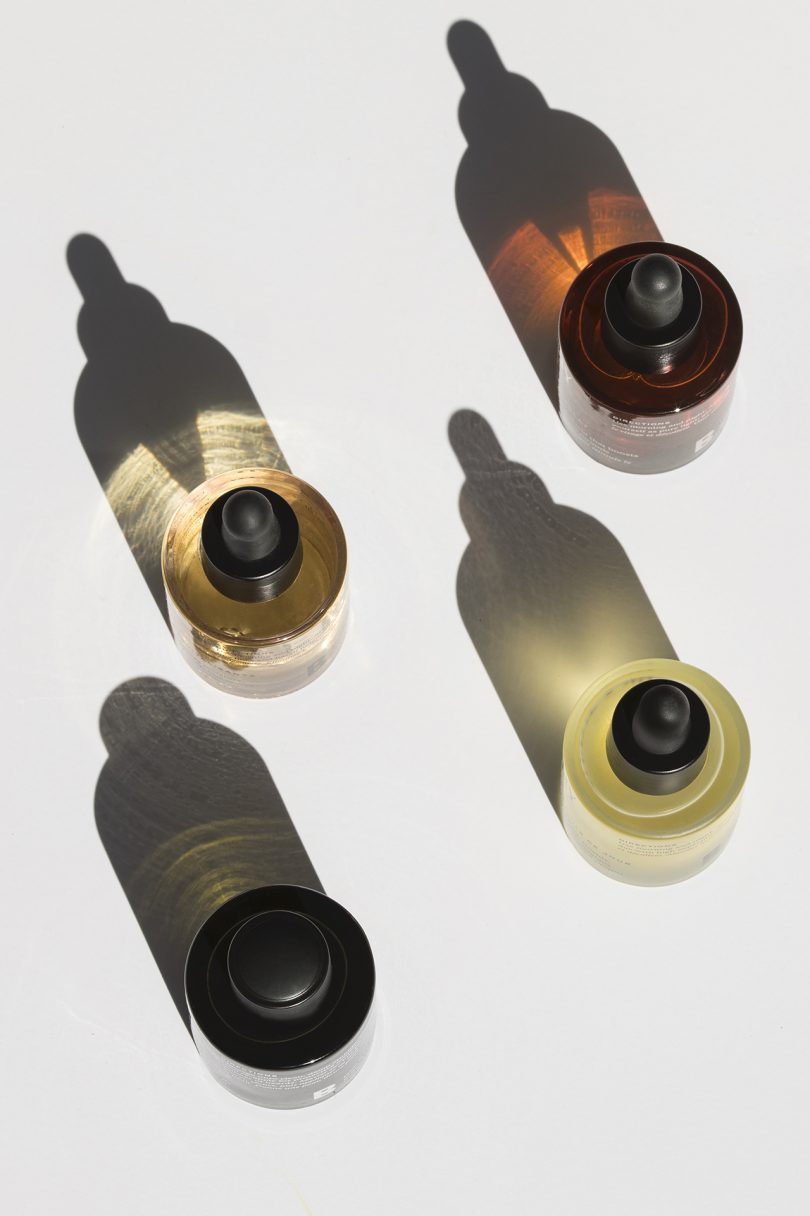 >>> Shop Biography's face oils in the Design Milk Shop! <<<