No one does mosaic tile better than the Italian company Bisazza Mosaico. The company was established in 1956 in northern Italy and they have pioneered the field by combining old Venetian glass design techniques and modern technologies.
Bisazza just announced that they will be opening a private, non-profit foundation in Vicenza, Italy that is dedicated to design and contemporary architecture. The Bisazza Foundation will also display mosaic works, installations, and exhibitions that are created for Bisazza by internationally renowned designers and artists. The Foundation will be opening on June 8, 2012 with a special exhibition from British designer John Pawson.
Check out this collection of my favorite 20 designs from Bisazza:
Image above: The Chester design is reminiscent of tufted buttoned upholstery and is available in the white pictured above, as well as a bright pink.
On the tamer side of things, the Oro 20 Blends are 3/4″ x 3/4″ tiles in a simple, random mosaic that is offered in a variety of colors.
The Shading Blends 20 collection offers 3/4″ x 3/4″ tiles with eight variations of the color family in a gradient going from light to dark.
The Kilt mosaic tile is colorful, vibrant, and most definitely bold. Besides being a great choice for the floor, imagine it on the walls of your bathroom or kitchen.
Designed by Carlo Dal Bianco, the Labirinto design is made up of 3/4″ x 3/4″ glossy and opaque tiles that form a fun geometric pattern in three color variations.
A modern play on polka dots, the Pois collection designed by Marco Braga features large iridescent dots in either white gold or alabaster white.
The Mimetico, designed by Fabrio Novembre, gives camouflage a whole new twist with these 3 color variations to choose from.
Available in three color combinations, Twill, designed by Marco Braga, is formed with diagonal lines in contrasting colors to create the mesmerizing pattern.
The Giza collection by Carlo Dal Bianco is strong and geometric with a metallic quality. It is available in four color combinations including the white gold and yellow gold above.
The classic-feel of this overlapping Liaisons design features white gold and yellow gold in this particular variation but it is available in three others as well.
The Righe design comes in seven color variations but the white on white is my favorite. The pattern features a contrast between glossy and opaque tiles. Vienna is pictured on the floor.
If you're looking for bold, than Suite is for you. Available in three color stories, the interwoven hexagon pattern has an almost 3D effect.
The Diagonale pattern comes in black with white gold or white with white gold and is a simple but dramatic pattern.
Leave it to Bisazza to create animal print tile patterns and to do it well. Besides the Crocodile, they also have Python, Leopard, Giraffa, and Zebra!
Designed by Rene Gonzalez, the Bamboo mosaics mimic a real bamboo forest and come in white or black with two different pattern variations.
Available in four color variations, Velvet evokes a classic raised pattern with lots of depth and dimension.
From the Crystal Collection, Flash is a glass mosaic pattern with circles of Swarovski crystals incorporated into it. Available in black, blue, and white.
Here are some favorites from the new 2012 collection:
The geometric, star-like pattern of Vesper Minor was designed by Edward Van Vliet and comes with either a black or white background.
Andromeda is designed by Edward Van Vliet and features overlapping circles in two color palettes.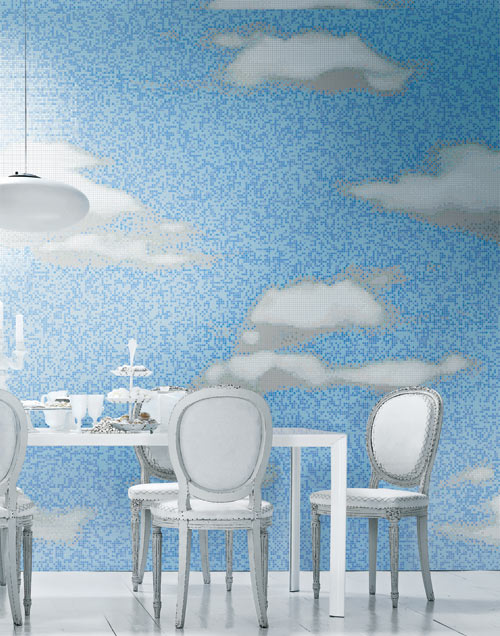 From the Bisazza Design Studio, the Clouds mosaics show white clouds suspended in a blue sky and come in two pattern variations.
The striped pattern of Rayures design from Carlo Dal Bianco is such a classic design and will never go out of style. It's available in the black/white combination as well as a brown combination.
What are your favorites?

Design From Around The Web