With views of the Thames, this penthouse apartment in Wapping got a major refurbishment thanks to atmos. Keeping the palette black and white, the cabinets appear to blend into the existing walls and look like part of the surface is being ripped away.
Using curved, built-in furniture in the main room helps to frame the beautiful views that surround the apartment.
Mirrors replace the backsplash across from the entrance reflecting and creating a visual illusion.
In between the upper and lower cabinets, the walls and countertops blend together with glossy black surfaces.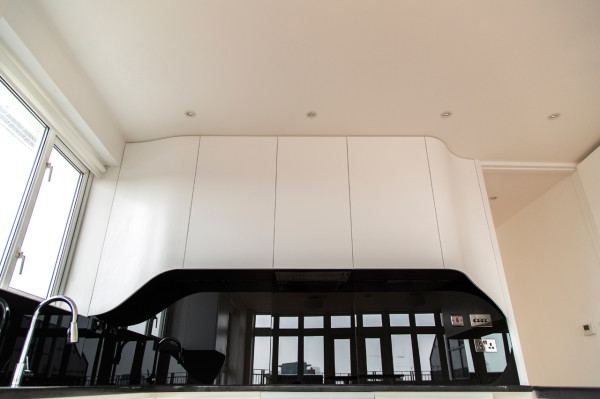 The cabinets swell out to create storage space.
A corner covered in a reflective material creates the illusion of double the space.
The reflection of the opposite windows fills the space with light.
The master bath is covered in plaster that almost looks like concrete giving it an industrial look. The plaster wraps around into the shower surround as well.
Check out more of atmos' curvy designs right here.