Since 1925, BLANCO's designers and artisans have been channeling their passion for innovation with design and functionality through their stainless steel sinks, SILGRANIT® sinks, faucets, and kitchen accessories. Each piece they craft represents quality, functionality, aesthetics, and professionalism, and provides the perfect focal point for modern, rustic, and vintage aesthetics.
But what they do better than just about anyone else is design farmhouse sinks. BLANCO offers a wide range in a beautiful selection of colors, sizes, materials, number of bowls, and styles that go far beyond the traditional apron front. Today they offer options in several different materials including fireclay, stainless steel, DURINOX®, and SILGRANIT, BLANCO's patented granite composite material that is scratch, heat, and stain resistant.
"The Farmhouse Sink with its massive, distinctive apron is the archetype of a sink. We're familiar with it from back in grandma's day. And it's very robust and very spacious and universally usable, and no other type of sink can do that. That was well-known earlier in traditional kitchen styles, but today with the new materials, in stainless steel, in Silgranit, we also get a very modern look that can also be easily combined with modern, minimalist kitchens. And the additional outfitting with accessories, boards that you can insert or draining racks, or how you can use the large volume for many different activities make the product so incredibly functional. And although it's so unpretentious, it's a lot of fun to work with it," Brigitte Ziemann, BLANCO's head of design shares.
BLANCO's QUATRUS R15 ERGON Apron Super Single sink features a transitional, geometric design that's a refresh of the classic farm sink and a great fit for the everyday needs of most practical kitchens. With a generous radius, rear-positioned drain hole, and high ledge for custom accessories, the QUATRUS R15 ERGON offers up maximum workspace in, under, and on top of the sink to help limit countertop clutter and free up workspace.
"Sometimes a subtle design element can transform a classic style into something more transitional, or even modern," states Tim Maicher, Director of Marketing for BLANCO. "The QUATRUS ERGON creates an entire new workspace for a sink with a clever ledge to hold space-saving accessories, adding practical versatility to match any décor."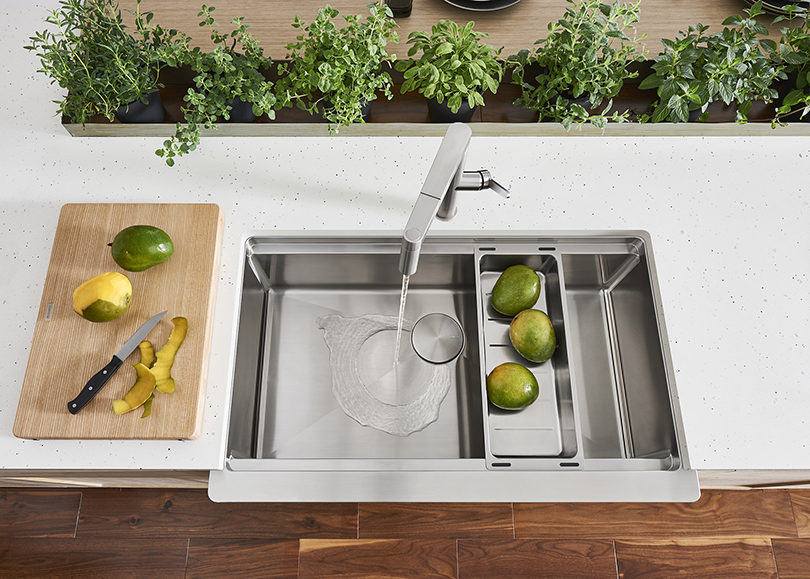 It's clear that BLANCO's farmhouse sinks fit the function and personality of any room. Case in point, the success of the IKON, the first-ever farmhouse SILGRANIT sink, has led to the creation of a 27" option for smaller homes and kitchens that saves space when it's at a premium while bringing lots of style. The IKON 27" is available in nine on-trend color options – Anthracite, Biscotti, Biscuit, Café Brown, Cinder, Metallic Gray, Truffle, White, and the brand new Concrete Gray.
Maicher shares, "The new IKON 27" farmhouse sink breaks the barrier of having to sacrifice style in small spaces. Many kitchens in urban areas have smaller cabinets and therefore, a limited space for a farmhouse sink. Our goal was to offer an apron front sink engineered especially for smaller sized kitchens, and include accessories like cutting boards and floating grids, that save space and add functionality."
Last year, BLANCO released the new PRECISION R0 Farmhouse Sink crafted from their revolutionary DURINOX® stainless steel material and designed for a hardworking, sophisticated kitchen. The latest innovation from the artisans at BLANCO STEELART features a completely unique look and feel with two times the strength of traditional stainless steel, as well as scratch and fingerprint resistant qualities. Created using technology inspired by the aerospace industry, DURINOX sets the gold standard for future stainless steel materials.
"With each year comes a new challenge to create products that are not only beautiful and functional, but also raise the bar within the industry," Maicher says. "For us, that product is the PRECISION R0 featuring our patented DURINOX material. We've overcome the challenge of keeping stainless steel sinks looking fresh by engineering a material that will not only resist scratches and fingerprints, but will maintain its luster and durability within even the hardest working kitchen."
Also recently introduced is the CERANA II Fireclay Apron Front Sink, featuring the same aesthetic of its predecessor as well as a mix of durability and versatility. Hand-finishing techniques and high-firing temperatures give this farmhouse sink a lustrous finish and silhouette. This reversible design comes with a stainless steel sink grid for extra protection and design options.
"The words sophisticated, modern and clean perfectly describe our new CERANA II Sink," states Maicher. "The CERANA II makes a statement in the kitchen not only with its apron front design but it also maintains a smooth and easy to clean surface which creates the perfect blend of functionality and great style."
Visit blancoamerica.com to see their full range of sinks.