The following post is brought to you by BLANCO. Our partners are hand-picked by the Design Milk team because they represent the best in design.
There's a honeymoon stage you go through when you introduce new designs into your home. The early days are spent admiring your shiny new investment, humble-bragging to your house guests about its state-of-the-art technology and all the ways it has been changing your life. But after a while, you might start to notice design flaws, or little things that bother you, realizing that your perfect purchase may not be so perfect after all…
German manufacturer of sinks and faucets BLANCO wants to make this a thing of the past. When the team set out to design its new PANERA™ faucet, they made sure to address the kitchen woes you've come to know over time with faucets, like dirty smudges and fingerprints that seem reappear as soon as you wipe it down or scratch-prone metal that makes the faucet look like the cat got to it. Tim Maicher, the Director of Marketing for BLANCO states,
One of our most forward thinking and innovative faucets to date, the BLANCO PANERA answers the need for a faucet that is not only timeless but is also resilient in the kitchen.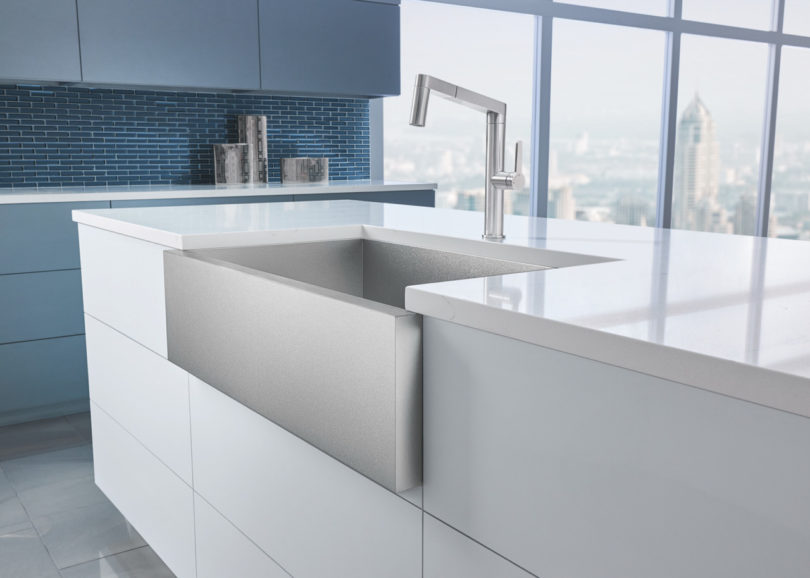 Made with a 100% stainless steel finish, inside and out, the PANERA™ is both fingerprint- and scratch-resistant, solving the minor but still valid annoyances of kitchen faucets and ensuring a long-lasting product for the modern kitchen. In action, the cylindrical, European-style pull-out spray is ergonomically comfortable to use when switching between the dual spray modes. With its clean lines and minimalist design, the PANERA™ takes up almost no space on your counter, making it easy to clean around (another common design flaw of most faucets) and a forefront choice for small spaces.
If you're still afraid of buyer's remorse, we asked BLANCO's Product Manager Eric Gundersen a couple of tips on choosing a faucet you'll love for years to come:
What are three things people should consider when choosing the right faucet for their space or home?
1. Function: They should consider how they would use their faucet. There are three main categories of kitchen faucets available today – pull down, pull out and semi pro. Each has their own merits based on the needs of the user. Dual spray, single spray and hands-free spray functions should also be considered.
2. Style and finish: Choose a faucet style and finish that coordinates well with the room décor. Contemporary, transitional and traditional faucet styles are readily available. Chrome and stainless finishes are typically the most popular but faucets can come in endless color and finish options.
3. Height and size: The size of the faucet is important and consideration should be given to the location of the faucet within the room or environment. Some factors that can dictate faucet size are open floor plan, the size of the sink, style of sink and if the faucet is to be located under a cabinet.
What kind of home or style do you see the PANERA™ fitting in best?
This contemporary faucet is the perfect match for open floor plans as well as smaller kitchen concepts. One of the hottest trends in the kitchen environment today is open concept living. Because the kitchen blends seamlessly with the living space, designers and consumers demand products that offer great design and style. PANERA's cylindrical body and rectangular spout make this faucet distinctive and interesting to look at. And when it comes to open concept, consumers need to see and interact with family and guests – so another advantage of PANERA is its small stature (11-3/4" high). This shorter height allows the user to see over the faucet as compared to standard kitchen faucets, which stand around 15"-16" or more.
The size, design, material and contemporary style of PANERA make it a great fit for smaller metropolitan kitchens. Even the motion of the handle was designed for smaller spaces – it moves 100% forward so you can install PANERA right up against the backsplash. This is a real space saver.
It's hard to always foresee the design shortcomings in everything you buy for your home and there will be times when you regret certain purchases but with the PANERA™, this won't be one of them.
To learn more about the BLANCO's new PANERA™ faucet, visit blancoamerica.com.

Design From Around The Web