Bleu Jour 'Haute Couture' RIDG and Kubb PCs at CES 2022
Bleu Jour 'Haute Couture' RIDG and Kubb PCs at CES 2022
1/6 Photos
2/6 Photos
3/6 Photos
4/6 Photos
5/6 Photos
6/6 Photos
It's another year and another virtual and distanced Consumer Electronics Show. While we certainly miss experiencing the towering and immersive mega-booths of the largest players within the consumer technology industries, it's the smaller CES players we most miss seeing in person. Case in point: French computer manufacturer Bleu Jour is showcasing an update to their 2021 Red Dot Award winning Kubb fanless mini PCs with an array of wild graphical designs, alongside a new architecturally-inspired workstation aimed at the creative set.
Bleu Jour's latest Kubb remain bijou in proportions (just 12 x 12 x 12 cm), but now powered by your choice in 11th generation Intel Core CPUs (i3, i5, i7 options), with up to 64GB of 2400MHz DDR4 memory, and fast M.2 NVMe SSD.  The aluminum case design has a been a mainstay of the French company – the PC equivalent of the Mac mini – and they've continued to update the specs while also giving the machines some eye-catching and unique exterior treatments (our favorite: the Pantone chip machine).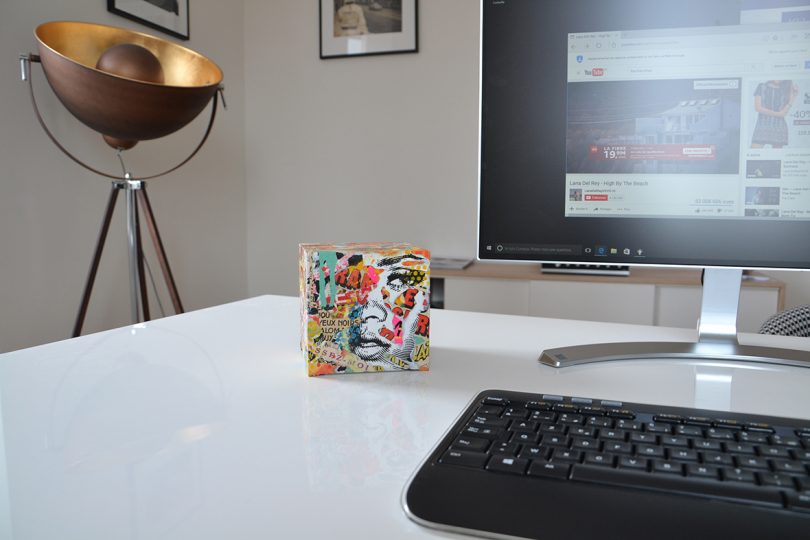 The French PC maker also unveiled a new workstation tower design aimed to serve power users – creatives, graphics designers, architects, CAM/CAD specialists – with an expressively architectural case fashioned by contemporary furniture and lighting designer, Pierre Cabrera.
The "elegant and refined" RIDG workstation's futuristic angled silhouette is on display in the Eureka Park Marketplace at the Venetian Expo Center, the first leg forward for the French company and their plans to enter into the North American market catering to "creatives, tech and gaming-savvy users," according to Jean-Christophe Agobert, CEO of Bleu Jour.
RIDG is being previewed in five finishes – chrome, aluminum, graphite, brown, and a most unusual blue flocked case – again, the styling handiwork of designer Pierre Cabrera, with hardware specs still TBA.