Stockholm's Blique by Nobis is so new, you can still smell the freshly laid carpets – and yet it respects its history. The hotel is an imaginative adaptation of a building that was part-warehouse, designed for Philips by iconic Swedish designer Sigurd Lewerentz in the 1930s, and part 1990s office block by Alenius-Silverhielm-Åhlund. "The project has been a balancing act between preserving the existing and daring to challenge it," says Kajsa Johanson, an architect at Wingårdhs – the firm behind the hotel. "The result is a raw and honest, but at the same time sharp, interior – one that is respectful of history but also looks to the future."
The original béton-brut concrete remains and the raw, industrial ambience it creates is complemented by the matte black ironwork and exposed services in the ceiling space. Designer furniture, much of it by Carl Hansen & Sön, in warm, natural materials such as wood and leather, provide a gentler counter-point, resulting in a balanced color palette dominated by soft gray tones with elements of buff, black, and brown. "We have developed a common method for how we approach the buildings [Nobis have] chosen to establish themselves in," says Helena Toresson, an interior designer at Wingårdhs who also worked on Miss Clara and Nobis Copenhagen. "The point of departure is always the building's history and its distinctive character in combination with the casual elegance and the warmth that Nobis wants their hotels to exude."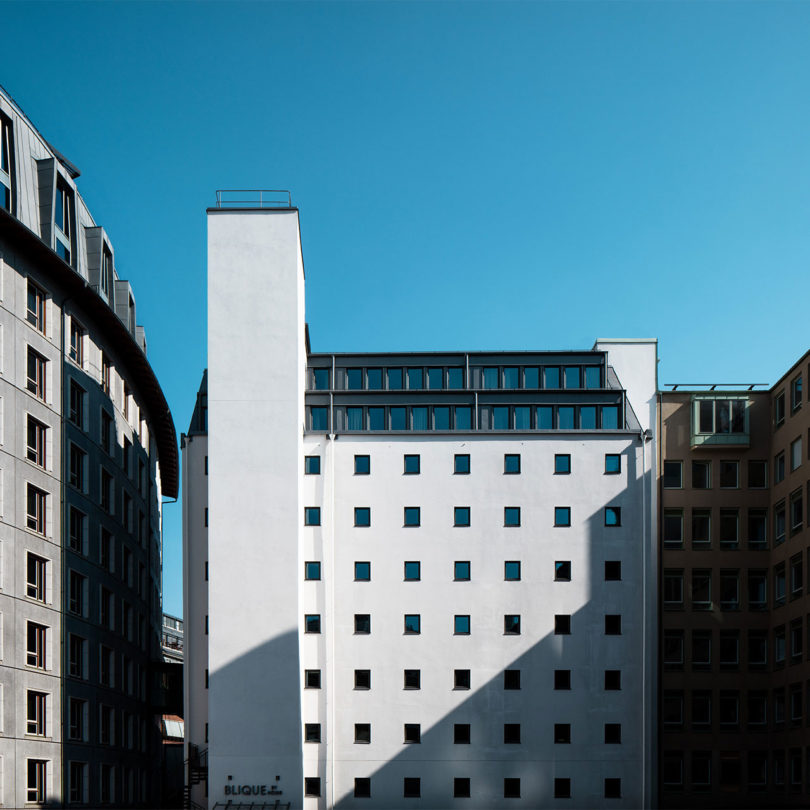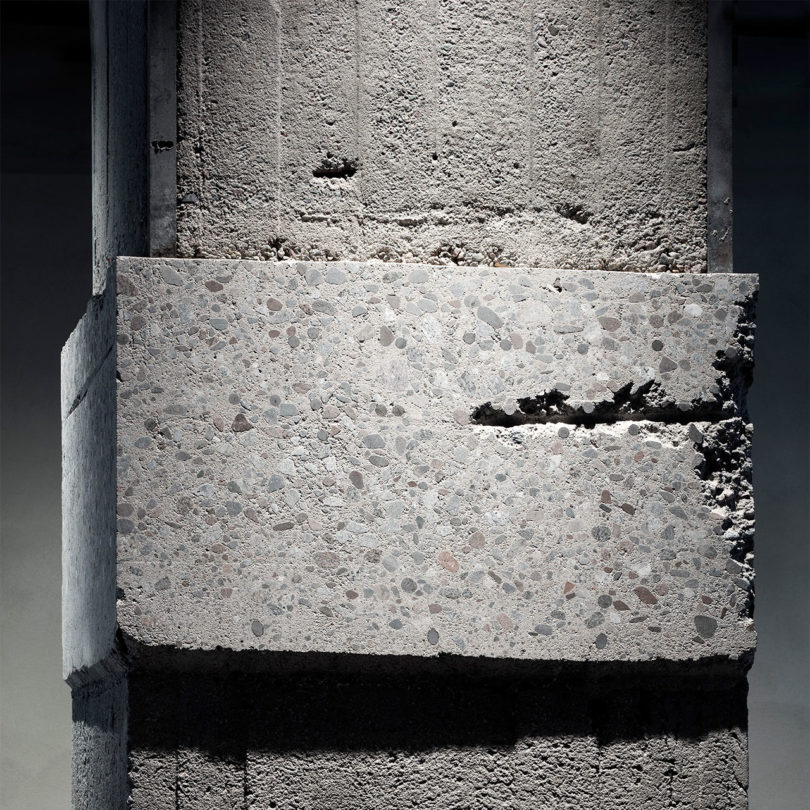 Located within the Swedish capital's gallery district with one foot in the traditional artistic neighborhood of Vasastaden and the other in vibrant, up-and-coming Hagastaden, Blique by Nobis features a rotating curation of artworks on loan from a local art dealer. Current works include a selection of photographic works by Jeff Koons.
Emphasis has been placed on communal spaces for meetings and socializing that are open to all, with a focus on architecture, design, art, music, and food. A large, open lobby at the heart of the building features a bar, serving coffee during the day and cocktails at night, surrounded by comfortable seating and co-working spaces.
At the top of the building is a roof garden with spectacular views over Stockholm, taking in both the old town and the high rises of the newer part of the city. A fully glazed restaurant enables diners to enjoy the view even in the cold Swedish winters.
At the bottom of the hotel is a courtyard and adjacent restaurant and kitchen serving up breakfast, lunch, and dinner on a Scandi-Asian fusion theme.
The same shuttered concrete found in the social spaces is also carried through to the guest rooms, some of which feature kitchenettes and dining areas perfect for longer stays.
A modular storage system made of black wrought iron makes it possible to decorate the room with personal belongings.
The wall-to-wall terrazzo in the bathrooms is both bang on-trend and a welcome pop of indulgence in an otherwise restrained scheme. The black pipework, faucets, and shower mixers keep it sharp.
Something tells me that Sigurd Lewerentz would have approved.
What: Blique by Nobis
Where: Gävlegatan 18, 113 30 Stockholm, Sweden
How much? Room prices start at USD $213
Design draw: Designer furniture in nude, buff, and black offset the original industrial features perfectly.
Book it: Visit Blique by Nobis
Photos by AndrÈ Phil/WingÂrdhs.