Jean Guy Chabauty of Moderno and Anne Sophie Goneau teamed up to create a new office space for BLUE Communications, an interactive agency based in Montreal. Located in an old brewery, the office space was a little under 3,000 square feet and needed to be updated to reflect the firm's creative nature, specializing in web development, branding, content creation, social media, and apps. Chabauty and Goneau created an ultra-white, modern space with pops of blue that reinforce the firm's branding. Could you be creative in this clean, white space?
When you walk in, you're immediately greeted by neon letters of the agency's logo and as you move foward, a white shark floats on the wall – a symbol of independence and confidence, as well as creativity.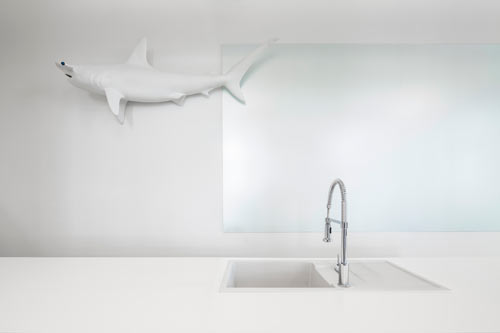 I really like the laboratory-like kitchen area.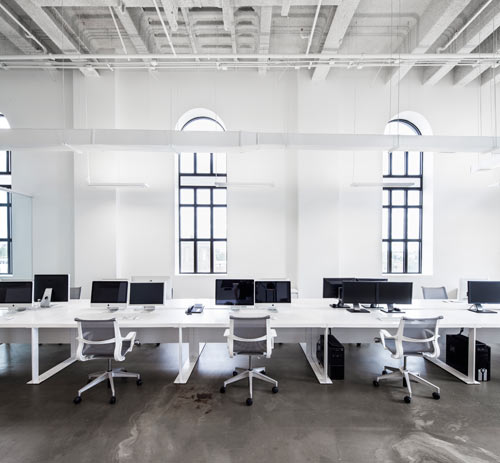 The team created different work zones and specific areas to create a stimulating and creative environment that would initiate interaction.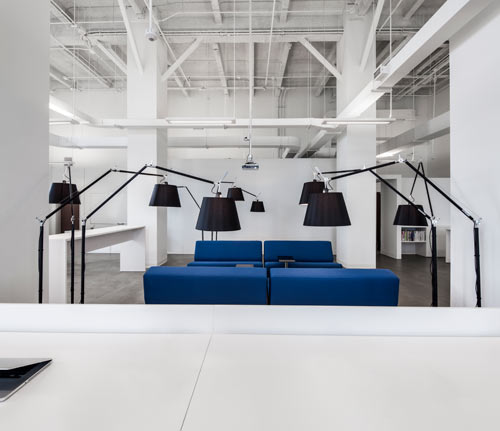 There is also a glass-enclosed conference room – a fishbowl, so to speak. It's private enough to hold important conversations, yet still keeps you visually connected to the rest of the space.
Project: BLUE Communications
Location: Montreal (Qc) Canada
Design: Jean Guy Chabauty, Anne Sophie Goneau
Photos: Stéphane Groleau
Year of Completion: 2012
Images via v2com.

Design From Around The Web