The BMW Motorrad Vision Next 100 is the stuff of dreams, a zero-emissions two-wheeled concept designed to explore the possibilities of motorcycling without limits (or helmets). Unveiled as yet another of the German automaker's stable of conceptual explorations – all with near nil likelihood of production – the Motorrad Vision Next 100 represents a predictive glance of what BMW's most grand vision of motorcycling 100 years from today.
Envisioned as a grandiose folded wave of black carbon fiber, the beautiful brutish heft of the bike is balanced by the intricate elegance of sweeping lines detailing the length of the bike, impressing movement even at a standstill. In sum, the design evokes the idea of the Wayne Enterprises Batcycle combined with a TRON Light Cycle, filtered through a historical reference of the 1923 BMW R32, their first motorcycle.
Taking a cue from developing VR and AR technologies of today, BMW designers envisioned displacing all the informational displays from the bike and onto a wirelessly connected digital visor, an accessory controlled by the rider's eye movements. Recognizing a motorcycle like this invites speed, data displayed would be limited so as not to impede visibility, while an integrated voice-recognition system would offer riders yet another way to interact with the Motorrad Vision Next 100's system.
"The bike has the full range of connected data from its surroundings and a set of intelligent systems working in the background, so it knows exactly what lies ahead. By collating the data it has gathered, it can suggest ideal lines and banking angles, or warn riders of hazards ahead," explained Holger Hampf, head of user experience at the BMW Group.
Such a revolutionary design isn't just aesthetic, but extends to how the vehicle is ridden, with a Flexframe system that adjusts the entire frame; turn the handlebars and the entire frame changes direction. BMW claims this system not only maintains maximum stability, but improves steering. And if that isn't enough to keep the rider safe, the inclusion of gyroscopes for stability at a standstill offers extra insurance while waiting at the stoplight, while traction control, anti-lock brakes, hill start assist, and an adaptive self-corrective system are all integrated into what BMW believes would be the safest motorcycle ever made while on the move. A good thing because all inclinations would promise if the Motorrad Vision Next 100 was ever produced, there would only be one way to ride such a bike: fast.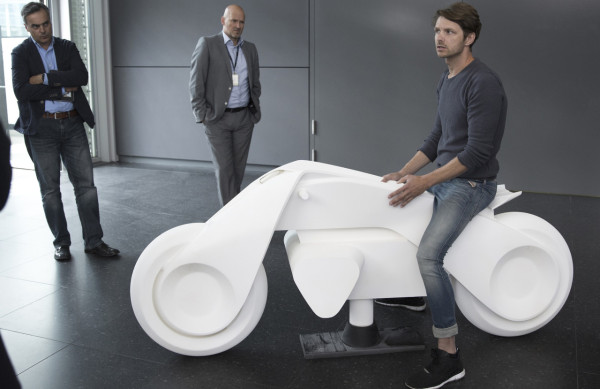 Design From Around The Web