Once a hippie hotel named Hotel Fox, the Hotel SP34 recently relaunched after undergoing a major renovation and expansion to become a boutique hotel in Copenhagen's old Latin Quarter. One of three hotels in the Brøchner Hotels chain, Hotel SP34 features 118 simple rooms and sits about 100 meters from the Town Square Hall and the pedestrian street Strøget.
The brand new interiors were done by Danish designer and architect Morten Hedegaard to be clean and comfortable, and the perfect fit for its location. The design also appeals to more upscale, "luxury bohemians" in the business traveler crowd.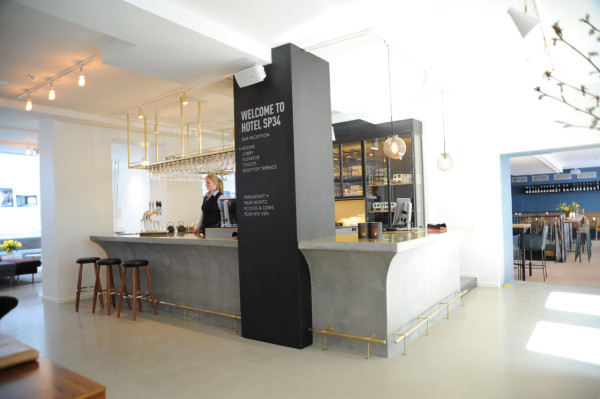 The hotel also features a two-story conference center that can hold 100 people, along with a private theater for up to 25 guests.
There are pockets of space set aside for guests to work or relax during their stay.
With two restaurants, two bars, and a fitness center, Hotel SP34 pretty much has it all, and pairs with it a laid-back vibe.
The rooms have neutral walls, white bedding, and minimalist Danish furnishings carefully placed throughout.
What: Hotel SP34
Where: Sankt Peders Stræde 34, 1453 Copenhagen C, Denmark
How much? From approximately 1441 DKK (US $244) per night
Highlights: A boutique hotel with understated design elements located in Copenhagen's Latin Quarter.
Design draw: Woods, neutral colors, and crisp white blend together to create a minimalist Danish boutique hotel with understated elegance.
Book it: +45 3395 7777