Bowmore ARC-52 'Mokume Edition' Distills the Spirit of Aston Martin Automotive Design
Bowmore ARC-52 'Mokume Edition' Distills the Spirit of Aston Martin Automotive Design
1/8 Photos
2/8 Photos
3/8 Photos
4/8 Photos
5/8 Photos
6/8 Photos
7/8 Photos
8/8 Photos
A 52-year-old vintage whisky by nature of its rare age deserves a bit of extra effort and detail. Even so, the amorphously contemporary expression of a decanter imagined by luxury automotive brand Aston Martin for The Bowmore stands apart for its next level design – a one-of-its-kind collector's item scheduled for auction at Sotheby's in London on May 26th to raise proceeds for The Bowmore Legacy fund, a project supporting the employability, training, and housing needs within the community of Bowmore, Scotland.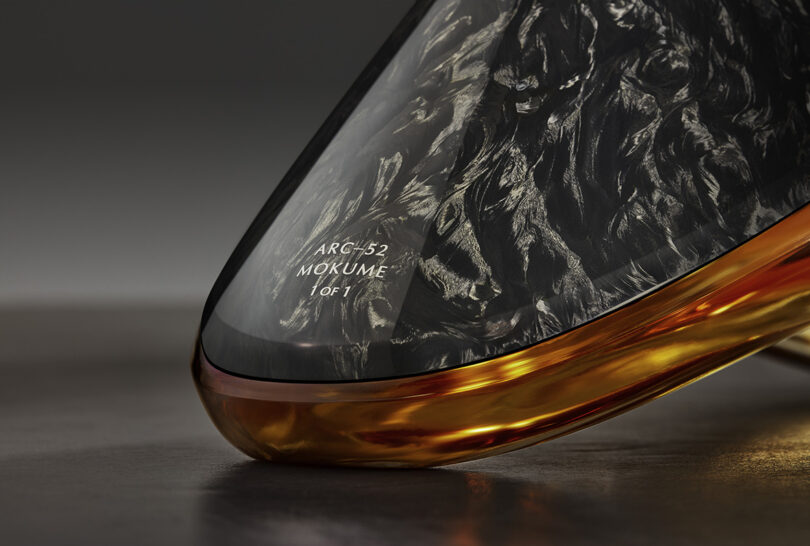 The futuristic arc-shaped Bowmore ARC-52: The 'Mokume Edition' takes its name after the Japanese metalworking layering technique known as Mokume-gane, loosely translating to "wood grain metal." In this instance the decanter designed to bottle the exceptionally aged single malt is made with carbon fiber rather than metal, using a process inspired by the mokume texture. The resulting wood grain or layered natural rock finish is intended to evoke the black rocks in the bay of Loch Indaal, home to the Bowmore Distillery, alongside the inside of the charred cask used to age the 52-year-old whisky.
Aston Martin not only lent their aesthetic eye for beautifully crafted design, but also brought their experience working with carbon fiber, a material used throughout Aston Martin's high-performance stable of vehicles. The vessel's design was approached much like the British automaker's cars, utilizing the latest 3D-printing technologies and handcrafted clay modeling to conjure the sculptural object.
"As makers of bespoke and beautiful objects, proportion, shape, and form, along with careful selection of colors and materials, are incredibly important to us at Aston Martin," says Marek Reichman, Executive Vice President & Chief Creative Officer, Aston Martin. "And sometimes, nature can be the best of all designers. So, for inspiration of the decanter for this ingenious and special one-off ARC-52 Mokume Edition, we turned to the black rocks in the bay of Loch Indaal, home to the Bowmore Distillery."
Unsurprisingly such unique beauty paired with the age of the whisky results in one exceptionally priced bottle. The heady Bowmore ARC-52 Mokume Edition will be auctioned on May 26th by Sotheby's with an estimate of $175,000-275,000, but will be accompanied with the opportunity to enjoy an experience at Bowmore Distillery and also get behind the wheel of the limited-edition Aston Martin DBX Bowmore Edition whilst on Islay, a similarly rare edition of the heritage brand's ultra-luxury SUV embellished with Bowmore-themed copper inlays using the warmly hued metal sourced from the original whisky still to accent the side strakes of the DBX (only 18 were produced in this unique specification).