I loved the BRC Designs booth at ICFF. I spent quite some time in there just touching and playing with everything.
BRC is Benjamin Rollins Caldwell, who loves designing using odd and unusual materials, making very functional items out of them. Every piece asks you to interact with it, but they don't feel over-designed or unusable.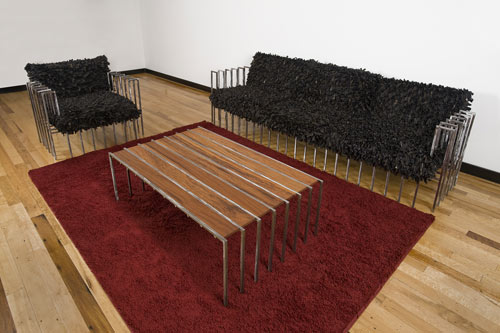 Spider sofa, table and chairs — named obviously because of the many legs.
The Deuces Wild chair is made from old playing cards.
The Fencing Table is fencing mask material wrapped in canvas and riveted.
The Organ collection contains a table, chair and bed. The chair's cushion is clear plastic revealing the inside stuffing pellets.
The Slinky tables are literally bouncy. I wish I took a video, because you can press down in the middle of them and they bounce.

Design From Around The Web