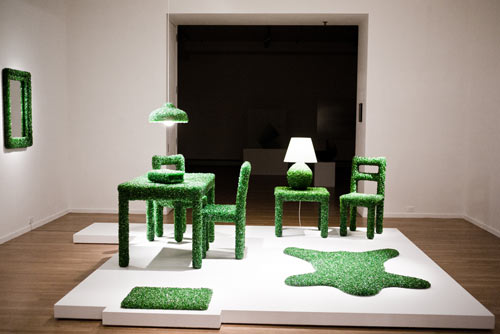 Mark Reigelman II has an installation on display at Heller Gallery in NYC called Breaking the Bottle.
Over 1,000 lbs. of 100% recycled glass and 20 gallons of Epoxy Resin is used to cover twelve typical household objects from chairs to books to bearskin rugs. Covered in about 40 layers of broken tumbled glass, the tedious process took about three months.
Inspired by the protective glass crenelations found on fences, rooftops and surrounding homes all over the world, the glass objects sit on a pedestal that has the same dimensions as Reigelman's childhood living room. Reigelman says of the installation, "By fusing elements of protection with objects of the home, my installation debates the need for fervent homestead defense while pointing out the repercussions of over-protection and the impact it has on social dialogue."
The exhibition runs through July 30, 2011.
Photos by Norman Nelson and Jared Zagha.