Located inside an iconic Brutalist water tower in the heart of Tel Aviv, The Lighthouse is the Brown Hotels' latest addition to its collection, which already includes four hotels in Tel Aviv, two in Jerusalem, and one in Trogir, Croatia. The new hotel offers guests an abundance of modern amenities, panoramic city and sea views, a panoramic rooftop lounge, and more.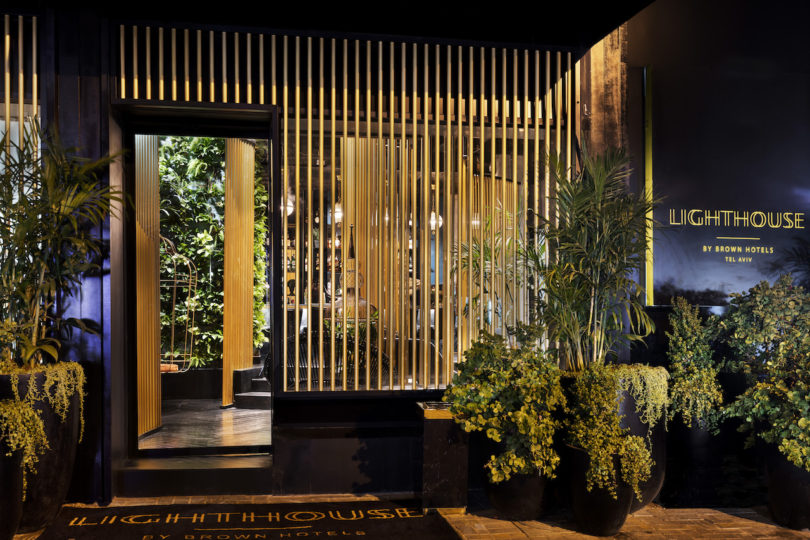 Designed by Argentinian-Israeli architect Nestor Sandbank with direction from Brown Hotels co-founder Leon Avigad, the Lighthouse features a contemporary interior that plays up rich tones of navy and emerald, metallic accents, and varying textures. Golden gates section off parts of the public lounge spaces without closing any one space off. The lobby's library offers a place for a chat and a cocktail.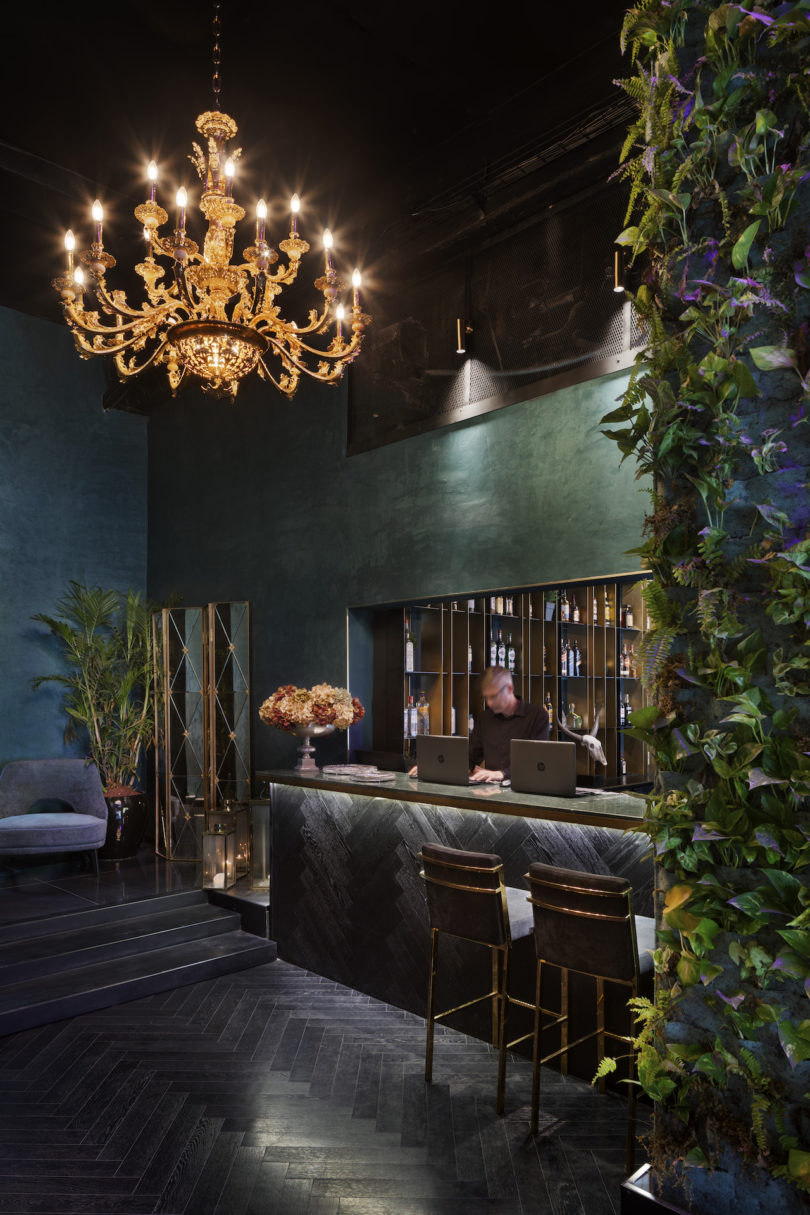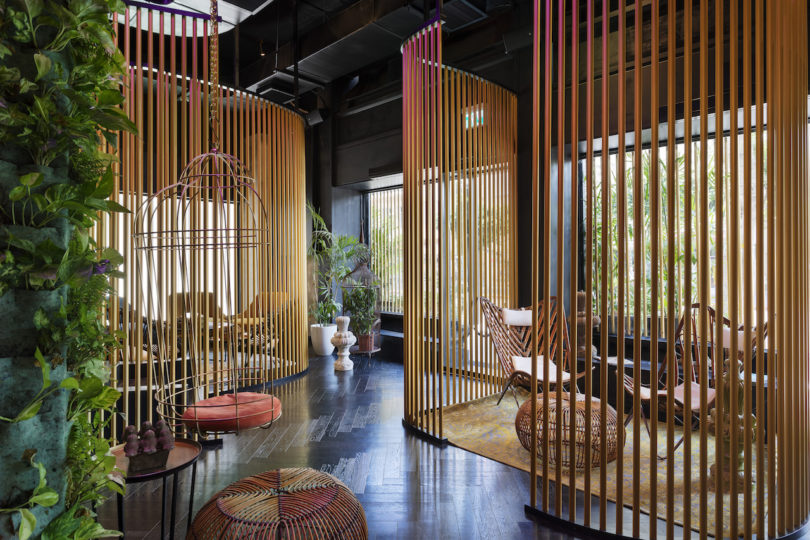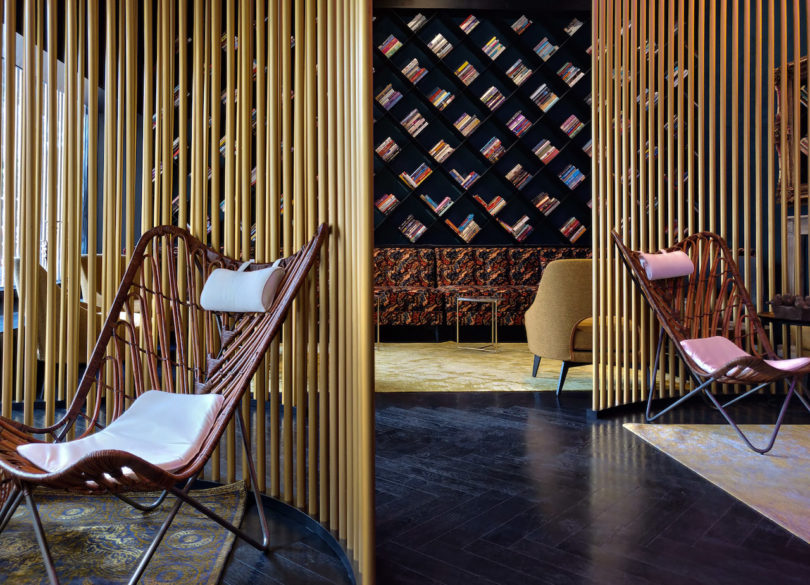 The hotel currently offers 100 guest rooms, though a phase two will open up two floors for an additional 60 rooms. For an especially memorable visit, you can book one of the 12 exclusive terrace rooms which offer private balconies, outdoor jacuzzis, and stunning views. Even if you're not set to splurge, all rooms provide obstruction-free views of the Mediterranean Sea coastline or panoramic views of Tel Aviv.
The guest rooms are between 22 to 28-square-meters, making them more spacious than an average hotel room in the city. The focus of all the rooms are the wooden-clad walls that are punctuated by light-filled crevices. Contemporary furnishings and lighting accents decorate the rooms while 800-thread count Egyptian cotton sheets grace the queen- and king-sized beds. Full-tub showers are filled with Molton Brown amenities for a luxurious soak.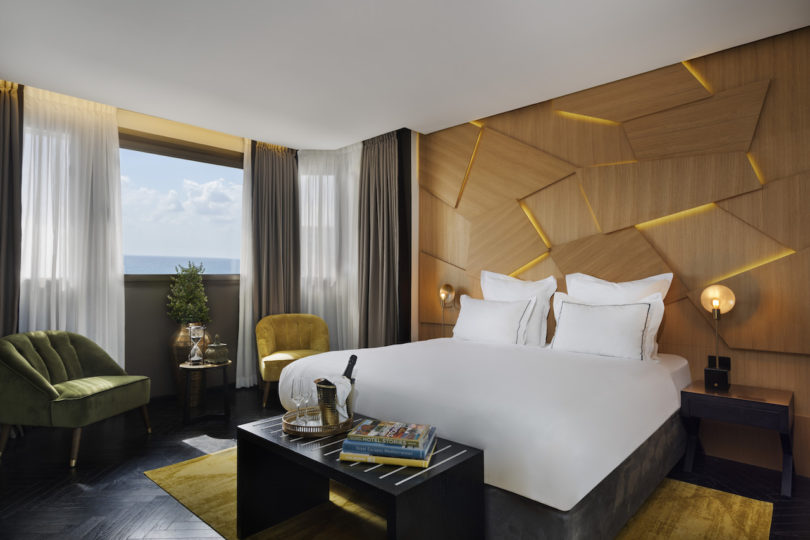 When guests aren't in their luxurious rooms, they can head to the hotel's lively lobby area, two cocktail bars, the Haiku panoramic rooftop lounge, two pools, a full-service gym/spa, or the lower level conference/banqueting center. For food and beverage, the hotel's fifth floor serves breakfast (with the local signature shakshuka dish), lunch, and a-la-carte breakfast.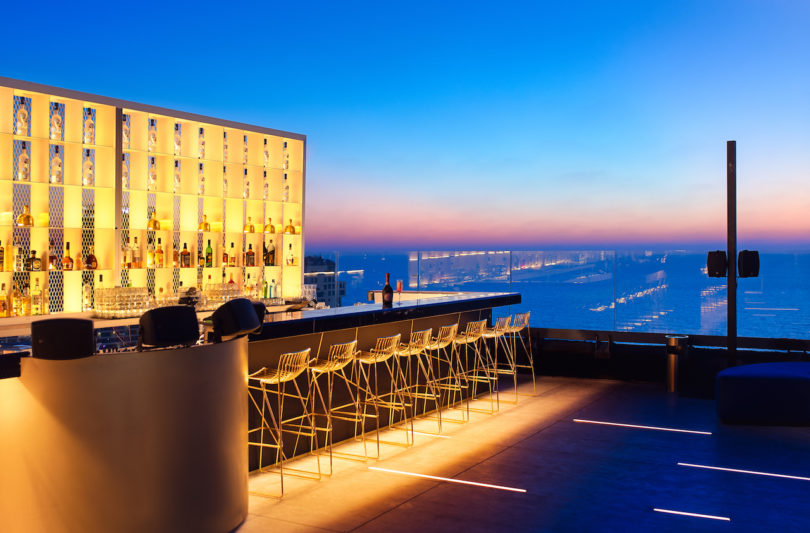 What: The Lighthouse
Where: Migdalor Tower, 1 Ben Yehuda Street, Tel Aviv 6380101, Israel
How much? Rooms start at approximately $141 USD per night.
Highlights: This is the Brown Hotels' biggest and most amenity-rich property to date.
Design draw: There are many design features throughout the hotel, whether you're exploring the lobby (a spatial layout with golden gates sectioning off communal spaces) or your own guest room (walls punctuated by crevices of light).
Book it: Visit The Lighthouse
Photos by Assaf Pinchuk and Max Morron.