Brazilian design brothers Fernando and Humberto Campana, otherwise known as the Campana Brothers, have taken over New York City gallery Friedman Benda in their first ever solo gallery show in the United States with an exhibition called Campana Brothers: Concepts. The brothers' work often touches on things like sustainability, globalization, and an exploration of materials, but this new body of work pushes their aesthetic and principles even further with the use of exotic materials and wanting to employ certain disappearing traditions. But don't worry, the collection still has that bit of playfulness one would expect from this dynamic duo.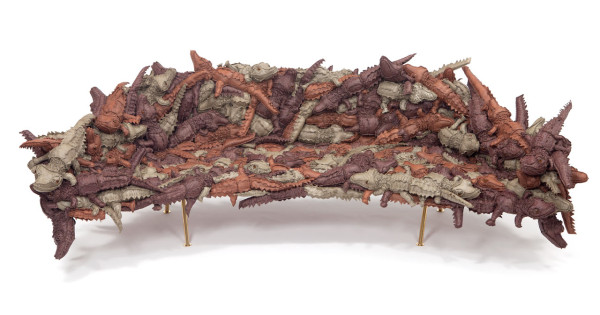 The alligator sofa and chair are created out of life-like stuffed alligators that are made by an NGO that employs imprisoned women.
The Racket collection is a series of brass-framed chairs and a screen made with a nylon stitched base and remnants of old woven Thonet chairs.
The Boca (Portuguese for "mouth") series features a wall shelf, table, and standing shelf that is covered in cowhide.
Fitas (Portuguese for "stripe") is a buffet, cabinet, and table constructed of bent steel.
Campana Brothers: Concepts will be on display until July 3rd, 2013.
Photos by Fernando Laszlo and Marcos Cimardi.