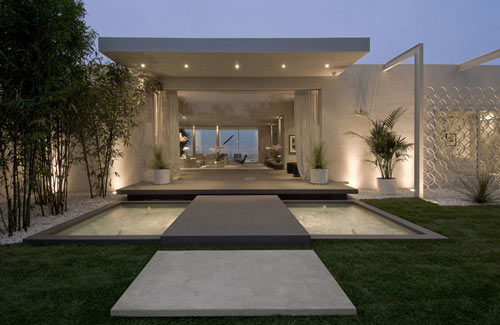 This week I had the opportunity to walk up these steps and into this amazing home at 1610 Carla Ridge in Beverly Hills, which was designed and built by Steve Hermann Design. As you walk into this masterpiece you are instantly greeted by the city lights, sparkling brightly, just beyond the edge of the infinity pool.
The view from this dining room has got to be one of the best in Los Angeles.
When you have a dining room with these views, I can bet there will be lots of dinner parties. This Poliform kitchen is sure to be put to good use!
This stunning 16-foot long fireplace mimics the flickering of the lights beyond and invites you to gather around and enjoy. I love how the seating in this room allows you just take in the exquisiteness from whatever vantage point you choose.
In the bedroom, the soft gray and white palette mixed with the floral wallpaper make it feel soothing and inviting. It is modern and elegant without being too stark or stuffy. I think I could pretty much spend my entire day relaxing in the bedroom.
…and this bathroom. The Antonio Lupi "Baia" bathtub is calling my name as the Jesse Faucet is just standing there looking gorgeous. The master bathroom is filled with all the luxuries you could want; steam shower with glass tile, faucets that look like fine jewelry, gorgeous Poliform vanities and storage cabinets, and a built-in plasma TV. I dream of this bathroom…
…when I'm not dreaming about this closet! I'm going to let you in on a little trick. The Poliform closet looks even bigger than it actually is by the use of a floor to ceiling mirror on the back wall.
The guest bathrooms are also filled with glass tile from Ann Sacks and Antoni Lupi bathroom compositions. The concealed drains on the shower floors and the vanity are such gorgeous details. The mixture of materials is done with such perfection that these sleek modern bathrooms take my breath away.
As designer and builder Steve Hermann says "…this home moves you emotionally. Absolutely perfect in every way." I could not agree more. I honestly did not want to leave! This home is currently on the market and could actually be yours!