Located about 45 minutes outside of Mexico City, in the city of Tepeji del Rio, Hidalgo, Casa DATRI & DASA sits on a two-plot site and is actually made up of two, individual houses that share an open, outdoor space. The two, slanted roof houses were designed by [marvarq] and while they work in unison together, they each required a different type of design.
The challenge was to design two individual weekend houses for two brothers with diverse tastes, while connecting them with an joint outdoor area with a shared pool and terrace.
The DASA house required an open floor plan that continued to the outdoor spaces, an entire room with private access from the main home, and an entertainment area upstairs that was accessible from everywhere in the house. The materials were kept minimal by using steel, concrete, and glass.
The DATRI house desired more spread out spaces and ones that were partitioned off instead of an open floor plan – one where each space would unveil itself as you moved through each room. Materials in this home were also kept simple.
Critical to the design was sunlight, wind patterns, and topography, as the terrace and pool area were important.
The second floors overhang creating covered terraces.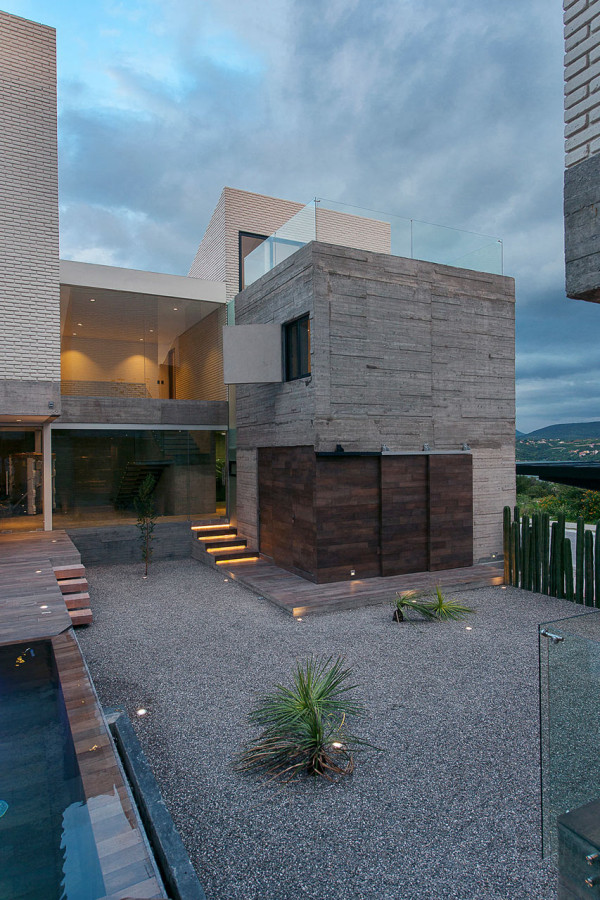 Photos by Jaime Navarro.