Italy, with its picturesque landscapes and historic palazzos around every corner, is like a siren's call for those looking for an idyllic vacation. The allure of such a beautiful country is not lost on most, though, and it can be hard to find a city to visit that's not completely overrun with tourists during the busy summer months. However, if you travel just an hour outside the popular city of Milan to Lake Orta, you'll find Casa Fantini Lake Time, a 5-star, 11-suite boutique hotel that combines the beauty of traditional Italian architecture with the breathtaking views of the landscapes at the foothill of the Alps.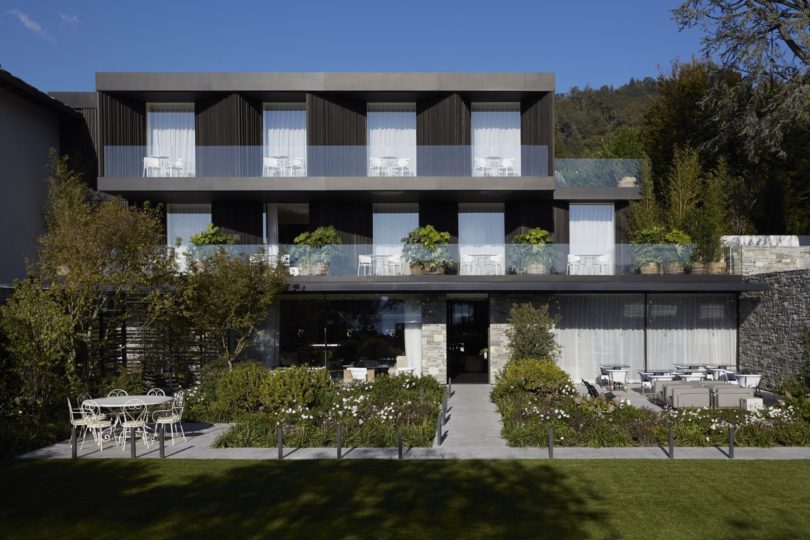 Italian architect, art director and designer Piero Lissoni of Lissoni Architettura worked with Daniela Fantini, CEO of Fantini Rubinetti, to carry out her vision for this unique hotel which was inspired by the philosophy of lake time, the slow pace of the lake. Since water drives the everyday work of Fantini Rubinetti, it also acted as the guiding element in the design in addition to the natural materials selected. Throughout the site, you'll find accoya wood, beola stone, and calming hues of blue used to reflect the harmony, culture and spirit of Lake Orta.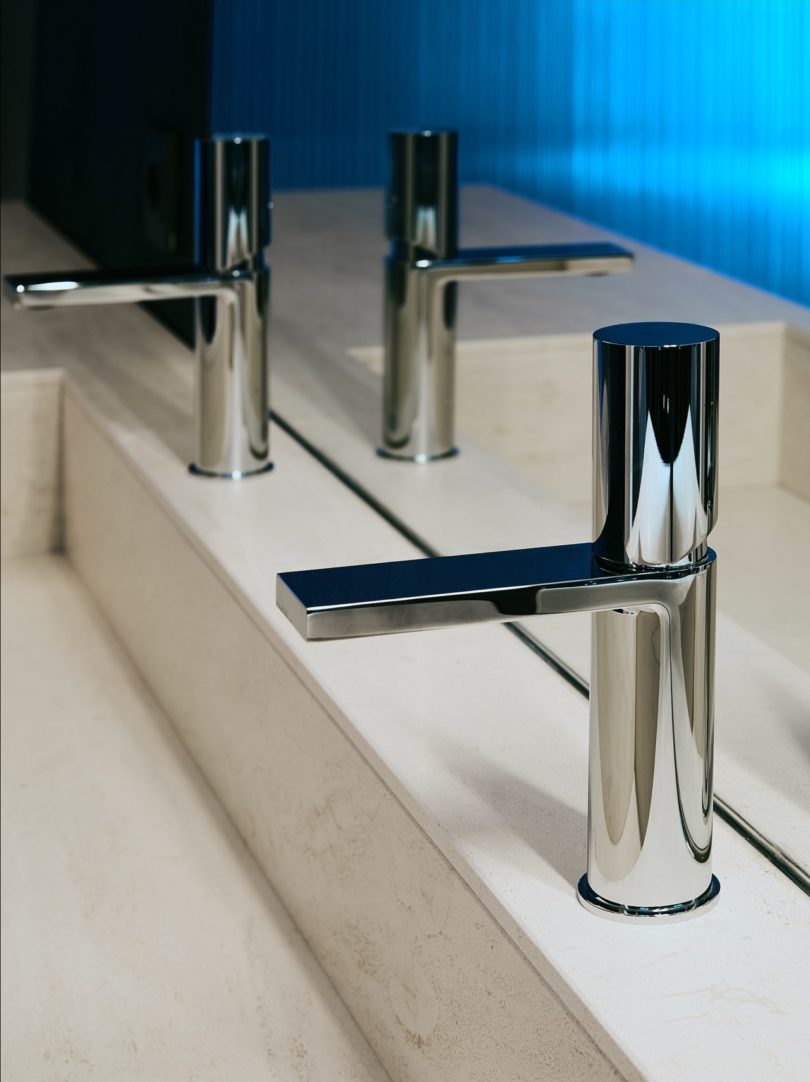 When we asked Daniela Fantini for her opinion on how design is changing or shifting the hospitality + travel industry, she responds:
Today design and contemporary architecture are highly instrumental to create and increase new tourism flows both in metropolitan areas and in remarkable locations. They help attract a sophisticated and highly educated clientele on a global scale, who shy away from standardized and loud mass tourism to look for quality, hidden treasures and first-hand experiences in extraordinary surroundings.

Milano, by way of example, has undergone a face lift over the last few years thanks to the ever growing number of design events – from Salone del Mobile to Design Film Festival, from Fashion shows to Arts exhibits – as well as a surge of architectural frenzy. It has now become a top destination much in demand, as opposed to the past when it was mainly a business place.

Casa Fantini Lake Time project follows the trend. Here you can find a rather amazing mix of design, architecture and beautiful scenery. Focus on the environment details and the Lake Time concept – meaning to slow pace, find time to oneself and enjoy the natural splendor- allow the visitor to make unique experiences. I believe the whole Lake Orta region, and not just Pella where there used to be no hotel facility before, will benefit from it.
The property consists of two lakefront buildings that offer five Superior Rooms, four Prestige Rooms and two Suites, all of which have that unforgettable lakeside view. The interiors were meticulously considered to cultivate a serene tranquility and cozy atmosphere similar to the kind you experience when at home.
Guests can mingle in the bar, garden, and swimming pool or take excursions that are selected and handled by Casa Fantini Lake Time, including visits to little-known areas, trips to design museums, gastronomic experiences, food tastings and introductions to local traditions.
The 2nd Annual Fantini Design Awards
Architects, designers and building developers can enter the second annual Fantini Design Awards that just opened for entries. Seven projects will be selected as winners by a panel of judges and one representative from each project will receive a 4-day, all-expenses-paid trip to Casa Fantini Lake Time and tour the Fantini factory (also designed by Piero Lissoni). More information on how to enter the competition here.
What: Casa Fantini Lake Time
Where: Piazza Motta angolo Via Roma 2, 28010 Pella (NO), Italy
How much? Rooms start at approximately $381 per night.
Highlights: This magical property combines architectural beauty with natural beauty. Designed by Piero Lissoni, the lakefront boutique hotel offers that ideal respite one looks for when looking for a place to vacation.
Design draw: Casa Fantini Lake Time started as a vision of Daniela Fantini, CEO of Fantini Rubinett. Water plays an integral role at both Casa Fantini Lake Time and at Fantini Rubinetti, so it was used as a central theme throughout the property.
Book it: Visit Casa Fantini Lake Time
All photos, unless otherwise mentioned, by Giovanni Gastel.