Sometimes when I travel, I like to pretend that instead of a tourist, I'm actually a temporary resident living in the city I'm visiting. I would add a local farmer's market to my itinerary, check out a local cafe, get recommendations from the barista on his/her favorite restaurant, and try to see the city with a slow pace instead of rushing to every city landmark and tourist attraction. There's something incredibly romantic about temporarily adopting a city as your home, which is the mood that the Romanelli family wants to create at their boutique apartment rental, Casa Flora.
Adjacent to Casa Flora is Hotel Flora which the Romanelli family has operated for more than 50 years. After deciding to explore a different concept of hospitality, owner Giole, his sister Zoe, consultant at Hotel Players Francesca Brasolin, architect Matteo Ghidoni and interior designer Laura Sari turned Casa Flora (which was originally a workshop meant to display student design) into a temporary home for design savvy travelers seeking to explore another side of Venice.
This luxury apartment consists of three bedrooms all equipped with their own private Turkish spas with a hammam, a dining room and a kitchen, all accented with lush plants and, of course, 100% Italian design made by young designers and local artisans.
The interiors of the apartment is meant to resemble a lagoon, and so each room has its own playful color scheme of either light pink, blue, yellow or green. Contemporary furnishings give the apartment a fresh, modern vibe while the home decor and photographs on the walls give the home an authentic sense of place.
The best part about the apartment? If you find yourself in love with any pieces, you can opt to buy it as a souvenir to bring home.
Every part of the home is bright, lush and airy, making it an appealing place to stay while on vacation.
The briarwood and brass table in the dining room is one of the common places in addition to the kitchen. For guests who seek a truly authentic experience, they can arrange bespoke services such as cooking classes, food workshops, wine tastings, meals prepped with an on-site chef, visits to the local market and shops, and even a private shoe-making session, complete with a local shoemaker who comes to the apartment to create custom shoes for you to wear on the trip back home.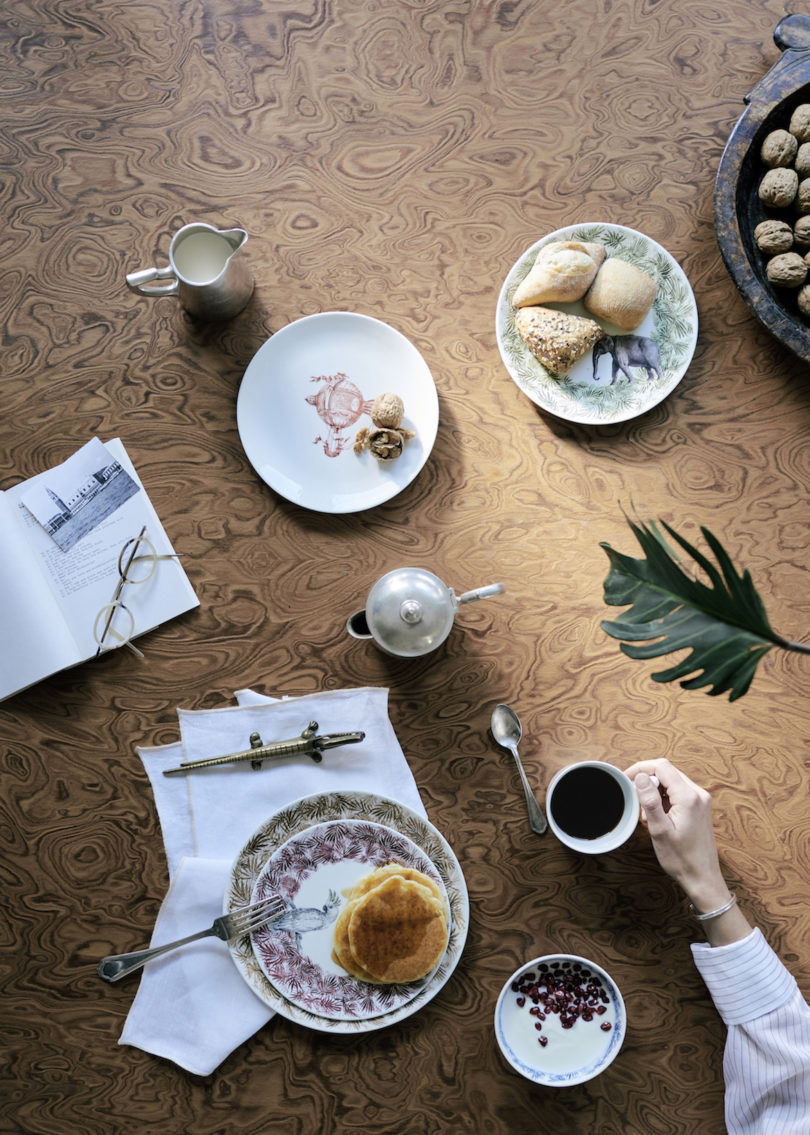 What: Casa Flora
Where: San Marco 2313, 30124 Venice, Italy
How much? Rooms start at approximately $734 per night.
Highlights: This boutique apartment rental is light, bright and airy, a contemporary stay in a historic city. We love that you can arrange bespoke activities that will help enrich your stay in Venice.
Design draw: The entire home is filled with Italian design and nothing else. Made by local artisans and young Italian designers, every piece in the home is available for purchase should you find yourself in love with any piece.
Book it: Visit Casa Flora
Photos by Valentina Sommariva.