Casa HS Quinta Da Baroneza is a gorgeous golf course home located in São Paulo, Brazil, and designed by Studio Arthur Casas. Made up of about 1,000 square meters of living space and divided between guest/children quarters and main living space/master bedroom, the home consists of a cube and rectangle, both completely open to the landscape and views.
A patio joins the spaces and contains a retractable roof and vertical garden with water feature.
As viewed from the street, the home's exterior is a simple, long facade made up of performated metal panels that offer protection, but can be opened if so desired. Glass sliding doors are also located on portions of the exterior that can be opened entirely to bring the outdoors in.
Just bring me a cocktail!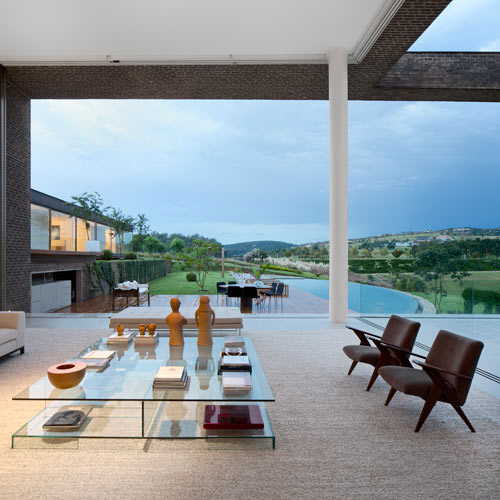 In the front of the guest pavilion, a large wooden deck extends to the swimming pool, which undulates in a curve to break up the clean lines of the rest of the home.
I love how the bedrooms completely open up to the outdoors.
Photos by FG + SG.