Casa Ming is a house in Monterrey, Mexico that appears much larger than it actually is. Each room flows into the next, keeping sight lines open to help lengthen the spaces visually. LGZ Taller de arquitectura also used linear wood beams on the ceilings to keep the eyes moving throughout the spaces.
The color palette is fairly neutral with lots of warm woods used on the ceilings and in the furnishings. The built-in media center was also made out of wood.
Windows were incorporated whenever possible to keep the natural light streaming in. When a view wasn't so great because of the close next door neighbors, they installed a two-story vertical plant wall that's low maintenance and offers a lush background to stare at.
Even the pool is long and rectangular helping to make things appear larger than normal.
The vertical plant wall fills what could have been just a boring inner patio.
Skylights above the stairwell beautifully filter light into the narrow space helping it to feel more open.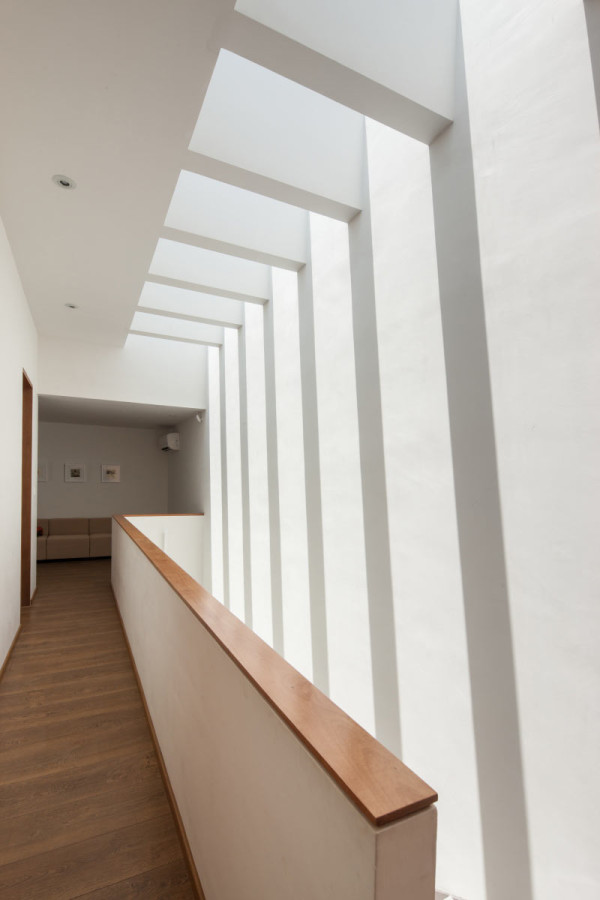 Upstairs, you also get views of the vertical green wall.
Photos by Jorge Taboada.