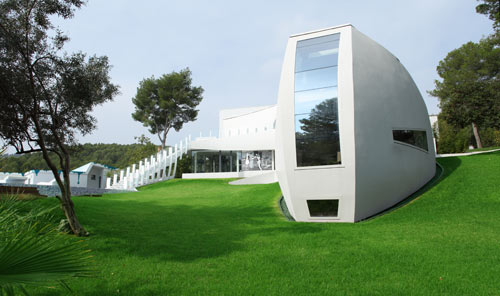 Be ready to have your socks knocked off. This home located on the island of Mallorca in Spain was designed by tecArchitecture with incredible interiors and design features by Marcel Wanders Studio. Believe it or not, this is the first villa to be completed as part of a series of villas in the Platinum Estates.
You will be unable to look away. Lots of photos — scroll down to the gallery for even more.
From the developer:
Located approximately 15 minutes outside of Palma de Mallorca in an exclusive community called Son Vida, the eponymously named Casa is an example of design poetry in motion. The completion of this remarkable home marks the arrival of third millennia architecture on the island of Mallorca. The task at hand was straightforward: take a very un-extraordinary existing Mediterranean villa constructed in the 60s and transform it into something extraordinary. The 800 m2 luxury villa transgresses the constraints of site and context, redefining luxury architecture as it is typified by the traditional and prolific Mediterranean and Tuscan styles otherwise found on the island.
Architect: tecArchitecture
Interior Design: Marcel Wanders Studio
Developer: Cosmopolitan Estates
Photography: Gaelle Le Boulicault