As a continuation of our explorative series of classic and modern design in collaboration with Be Original, we explore Cassina's LC2, designed by Le Corbusier, Pierre Jeanneret and Charlotte Perriand.
When first designed, the LC2 from Cassina was quite revolutionary for its time. Since then it has become an icon—a timeless piece of contemporary design history that has outlived trends and still feels fresh today, almost futuristic.
Back in 1925, Le Corbusier had written a book called L'Art Décoratif d'aujourd'hui in which he defined three different furniture types: type-needs, type-furniture, and human-limb objects. He defined human-limb objects as: "Extensions of our limbs and adapted to human functions that are type-needs and type-functions, therefore type-objects and type-furniture. The human-limb object is a docile servant. A good servant is discreet and self-effacing in order to leave his master free. Certainly, works of art are tools, beautiful tools. And long live the good taste manifested by choice, subtlety, proportion, and harmony."
Around 1928, he and fellow architect Charlotte Perriand began to put the expectations for furniture from his book into practice in collaboration with Pierre Jeanneret. The first results of the collaboration were three chrome-plated tubular steel chairs designed for two of his projects, The Maison la Roche in Paris and a pavilion for Barbara and Henry Church. The line of furniture was expanded for Le Corbusier's 1929 Salon d'Automne installation, 'Equipment for the Home'. Of the many designs were officially presented in 1929, the LC1, LC2, LC3 and LC4 (names given by Cassina) were the first items to enter into the Cassina production.
Cassina was granted the exclusive worldwide rights to initially produce four of Le Corbusier's models in 1964 while the architect was still alive and since then has continued to produce the Le Corbusier, Pierre Jeanneret and Charlotte Perriand designs in the Cassina I Maestri Collection, promoting their authenticity and cultural values in order to make the historical and industrial legacy available to a wider public.
In its manufacturing process, Cassina uses five separate cushions (for the chair) contained within the tubular metal cage to create a cocoon of comfort. The cushions sit on a belted structure and are upholstered with fine leathers and fabrics. You can even get down padding as of 2010.
In collaboration with the Le Corbusier Foundation and the heirs of Jeanneret and Perriand, they launched a customizable color collection complete with its own website—it's kind of addicting to play around with all the possible color combinations.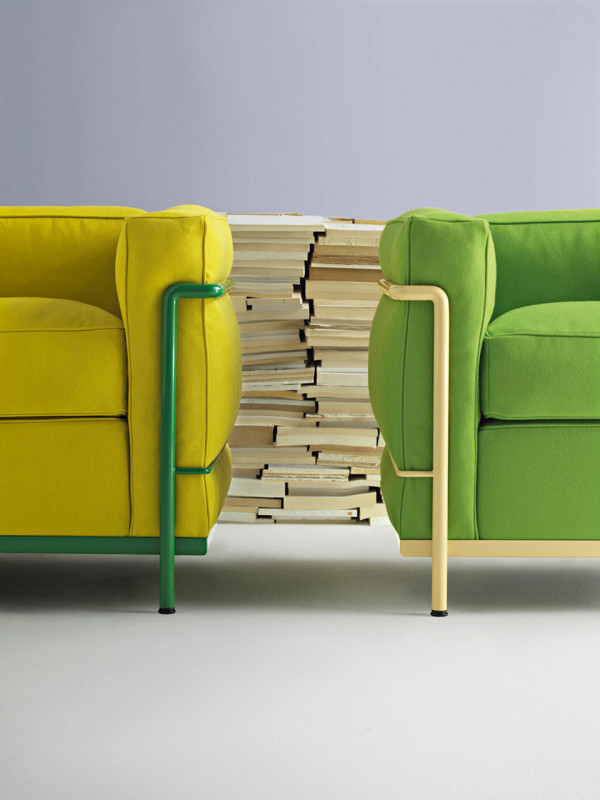 This design has become so recognizable and iconic that it's perhaps one of the most knocked off one in the industry. Cassina has created a very handy website documenting how to tell an original from a fake. The popularity of the design can be appreciated, but the original design is held in high esteem at Cassina. Unlike the imitations, royalties are paid to the designers and official foundations on each item sold, this is a guarantee of their creativity and supports innovative research. They work in close collaboration with the official foundations and heirs, to continuously study and research the archives in order to make the works of these great masters known to the public. We can't wait to see what's next.

Design From Around The Web