Now that new product launches are instantly disseminated the world over through social media and blogs like this one, design festivals have to try harder to reward those who visit in person, whether that's through hyper-local design or live experiences. Clerkenwell, a tiny area of London that gets its own festival due to the sheer number of creatives based there (there are rumored to be more architects per square foot than anywhere else in the world) and its Design Week is no exception.
Commissioned by our very own Editor at Large, Katie Treggiden, the Curved Twist installation at Desso's flooring showroom was created by Kia Utzon-Frank and Faye McCaul, combining Kia's patent pending Louver Twisting Comb system, a frame made from recycled yogurt pots, and 21,500 dichroic rods that Faye knitted into a screen that changes color depending on the light and angle it is viewed from. It really came alive in natural daylight and had to be seen to be believed.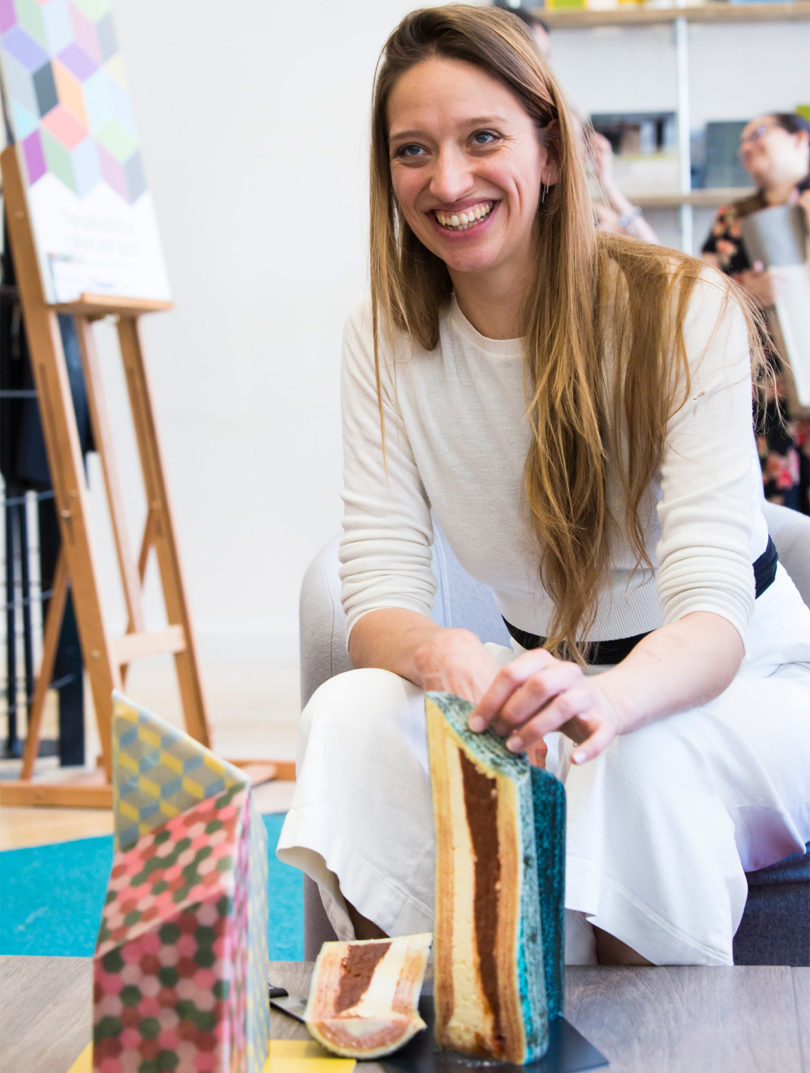 Kia also made a series of sculptural cakes covered with Tarkett's flooring designs and featuring an 'ombre' flavor profile that changed in intensity from rhubarb compote to white chocolate and rum ganache depending on which slice you tried. They were served as part of a 'fika' ritual – a cake and coffee break that is an important part of Swedish culture.
Clerkenwell London is a multi-disciplinary space housing a bar, restaurant, spa, wine cellar, shop and events space. A series of making workshops brought the space alive for Clerkenwell Design Week, including screen-printing classes with Anthony Burrill, who created a timely special edition of his Give The Joy Back print for the event.
Meanwhile, artist and print maker Alex Booker taught a woodblock carving print workshop. Alex is currently in Tanzania with the human rights charity Standing Voice as part of their Summer Skills Workshop: a fortnight-long program of training, seminars, and workshops supporting marginalized communities of people with albinism on Ukerewe Island. Your can follow his journey on Instagram.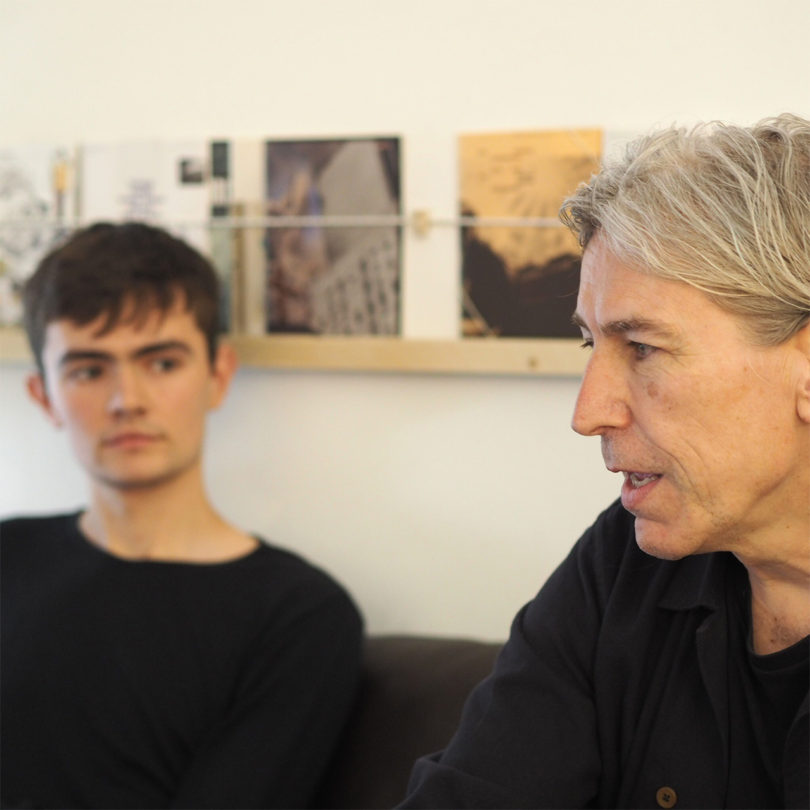 Alongside workshops, there was an extensive talks program from the main talks space to fringe events happening right across Clerkenwell. London-based independent magazine shop, magCulture, collaborated with MacGuffin magazine to create an installation based around the humble kitchen sink – each issue of MacGuffin is inspired on one object and the sink is their current focus. magCulture hosted 'What the Sink Saw' a talk which saw magCulture founder Jeremy Leslie and MacGuffin contributor Eliot Haworth explore the role of 1950s kitchen sink dramas.
There was of course also some product on show. Alhambra Tiles collaborated with artist Rob Lowe – more commonly known as Supermundane – to create Super Tile, with a share of the profits going to Core Arts, an East London-based not-for-profit social business promoting positive mental health and well being through creative learning.
Transport for London is well-known for its smart use of design and patronage of the arts. Its pop-up shop of brooches inspired by the capital's subway system was a treat – our favorite was this set of table mats, coasters, and of course brooches, by Loris & Livia made from the speckled heat-resistant flooring of the London Underground carriages.
East London-based Grace Souky was born in Venezuela and educated in New York. Her Domestic Collectables series explores the connections between users and everyday objects, especially with regard to the ways in which we interact with such objects around the ritual of food. Using brass, copper, aluminum, marble and wood to create the same piece in a variety of materials, she creates endless variations to suit different needs and tastes.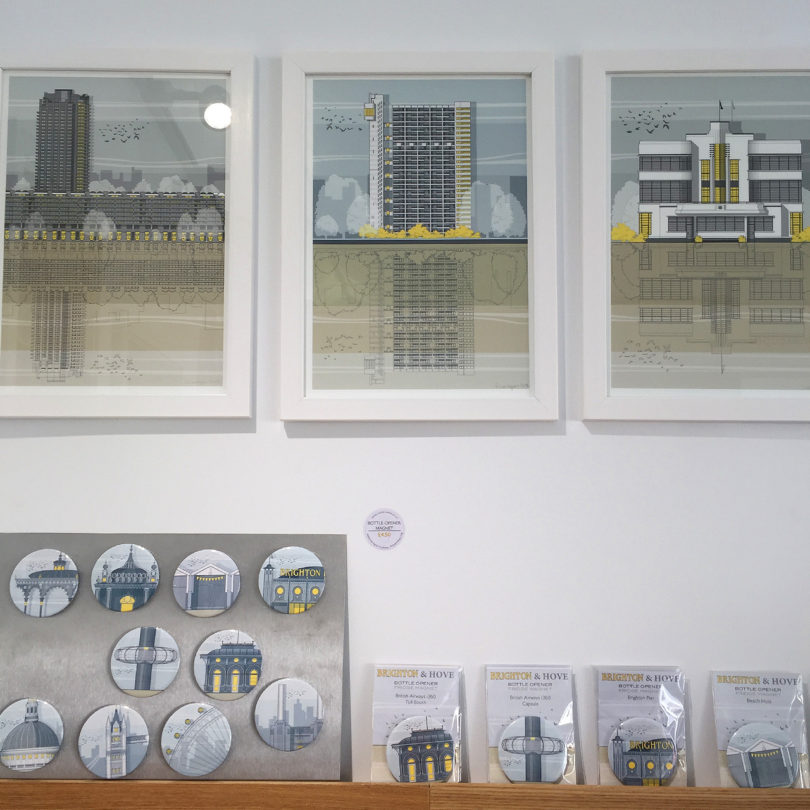 An architect by trade, Brighton-based Amalia Sanchez de la Blanca now pursues her first love, drawing buildings rather than designing them, to create a wide range of products, from bottle opener magnets to art prints, inspired by modernist properties around the world.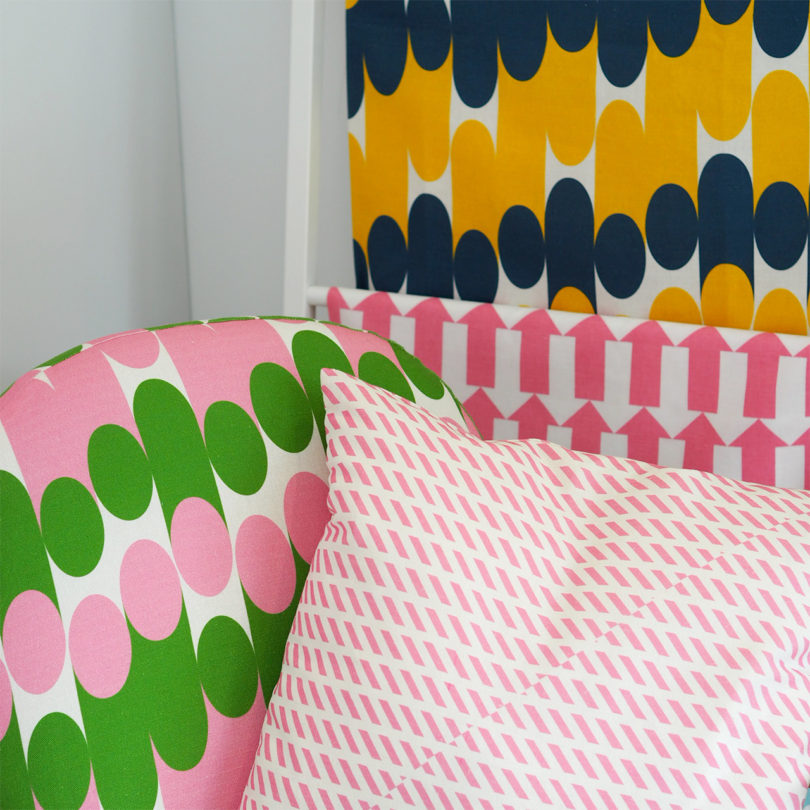 Textile designer and maker Laura Spring is originally from Staffordshire in England and now lives and works in Scotland's Glasgow, having graduated from the Glasgow School of Art, where she creates bold graphic print designs which she translates into fashion and home accessories.
And not forgetting Clerkenwell Presents – the street installations commissioned by the festival organizers every year to engage passers-by and visitors alike with design and architecture. Double Vision is a four-meter high structural installation positioned at the entrance to the the historic Clerkenwell Close sponsored by flooring manufacturer Hakwood.
Detroit-based manufacturer Shinola collaborated with London-based design practice Giles Miller Studio, known for its innovative surface development, to create The Bolt – a celebration of handcrafted skills, materials and product, in which Giles Miller took the Shinola logo and applied his trademark three-dimensional surface pattern design approach.
Design and fabrication specialists Aldworth James & Bond worked with Corian to create Order – an installation for St John's Gate, using an octagonal form inspired by the Cross of St John – the icon for the Order of St John, which was granted a royal charter by Queen Victoria in 1888 "to prevent and relieve sickness and injury, and to act to enhance the health and well-being of people anywhere in the world."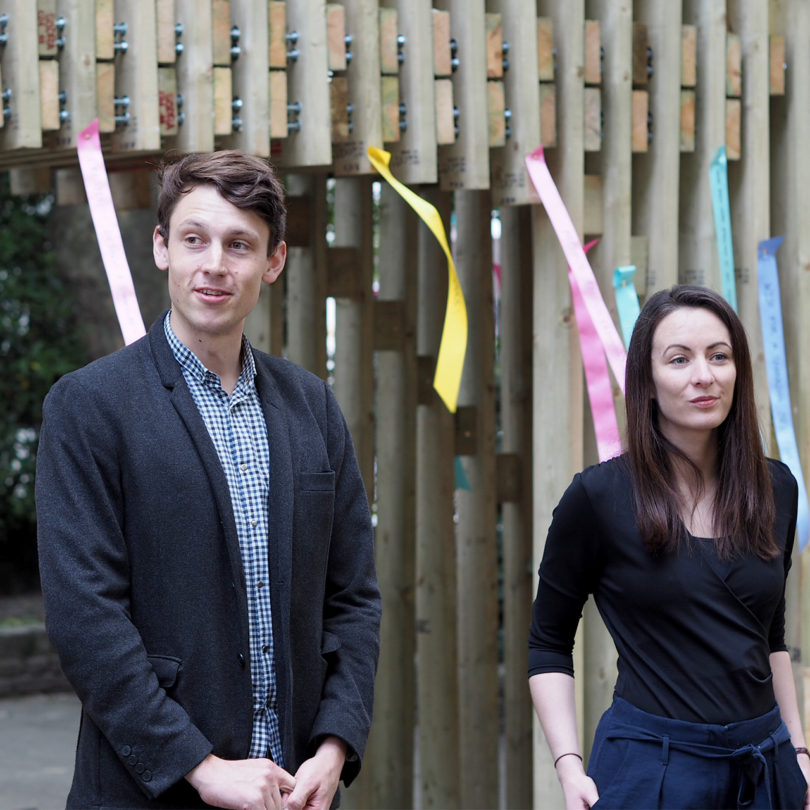 Now in its second year the Next Generation Design Pavilion aims to inspire GCSE students from across London to consider design and construction-related careers. A series of educational workshops run by community interest collective Scale Rule asked students to explore how architecture and design might encourage social interaction – their solution was a bridge to which visitors can attach ribbons inspired by the padlocks attached to bridges all over the world.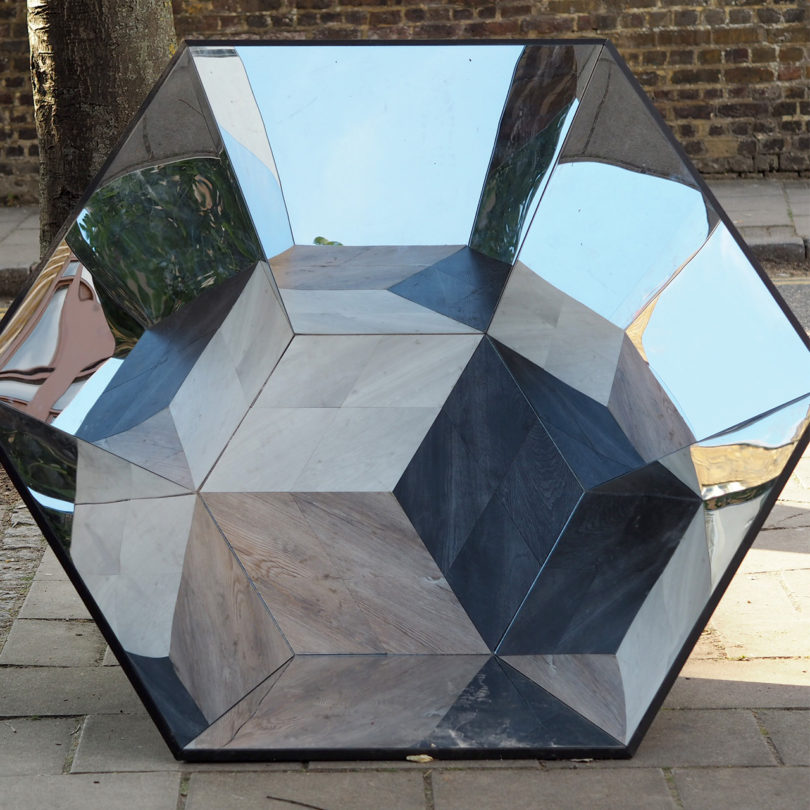 And finally, British artist Sally Hogarth worked with flooring manufacturer Karndean to create Apex, Cubix, Pyramid, Tripoint, Pennon and Hexa – a series of six kaleidoscopic installations along the official Clerkenwell Design Week trail, that stopped people in their tracks and inspired a sense of child-like wonder as they explored the festival.

Design From Around The Web