Celebrate Life's Ebbs + Flows With New Whimsical Home Accents by Claudia Pearson
Celebrate Life's Ebbs + Flows With New Whimsical Home Accents by Claudia Pearson
1/11 Photos
2/11 Photos
3/11 Photos
4/11 Photos
5/11 Photos
6/11 Photos
7/11 Photos
8/11 Photos
9/11 Photos
10/11 Photos
11/11 Photos
New to the Design Milk Shop, Brooklyn-based illustrator Claudia Pearson's nature-inspired Ebb + Flow collection honors life's ever-changing rhythm. Her range of colorful art works, knitted blankets, tea towels, and throw pillows uses graphic patterns and curvy, organic shapes to convey life's ups and downs and our natural quest for balance – bringing a sense of calm, comfort, and whimsy to interior spaces. Read on to learn more about our favorites, and find more Claudia Pearson goods in the Design Milk Shop.
"It was a beautiful fall day, so I took myself into the woods to sit & paint," says Pearson of the moment she was inspired to create Ebb + Flow. She recalled a memory of her youngest son building a cairn (a stack of rocks) in the middle of a river upstate, observing his focus and the delicate balance of the rocks surrounded by the flowing water. "I reimagined the cairn and sat in silence painting stack after stack." This desire for balance in the midst of life's natural rhythm is what she explores so creatively in her work.
​​

Fruit Tea Towel
The graphic black illustration on Pearson's Fruit Tea Towel, depicts a playful, balancing stack of fruit with small linear details that add to its character. Hand-dyed and screen-printed on 100% cotton, Pearson's tea towels are a super practical home accessory that add a touch of minimalist craft to your kitchen decor! Warning: once you get one, you'll be seriously tempted to collect them all!
$26
Shop Now >>
Peace Serving Tray
To bring the colorful optimism of Ebb + Flow to your table, look no further than the Peace Serving Tray. The FSC certified (meaning it was sourced from responsibly tended forests to lessen environmental impact) birch tray uses abstract shapes and vibrant, primary colors to represent peace birds under a graphic sun. Pair the tray with wooden accessories to play up its nature-inspired design or go for equally colorful dining ware to create a bright, mood-boosting tablescape.
$48
Shop Now >>
Sun Woven Pillow
Claudia Pearson's Sun Woven Pillow has a joyful design that instantly adds brightness and positivity to your living space. The neutral jacquard material makes this throw pillow a timeless addition to any living space that's as uplifting to look at, as it is to cuddle while watching your favorite series!
$117
Shop Now >>
Desert Knitted Blanket
The Desert Blanket is happiness in a throw. The 100% cotton knit blanket has a fresh, golden yellow color with a reversible cairn-inspired design that leaves room for creative styling possibilities: tone things down with the beige, earth-toned side, or flip it over to amp up the energy with its joyful yellow color. However you style it, you can count on the Desert Blanket to bring light, style, and positivity to any space in the house.
$181
Shop Now >>
Waves Linen Art
Printed on airy linen, Pearson's Waves illustration will be a fast favorite for minimalists and their print-happy counterparts alike. The pieces' soft, dynamic curves and stacked composition evoke the same satisfying balance of the cairn in Pearson's lakeside memory – adding a dose of bold graphic minimalism to your space. Plus, the art work's convenient oak wood hanger adds to its charming simplicity, guaranteeing it'll play nicely with other pieces of wall decor.
$117
Shop Now >>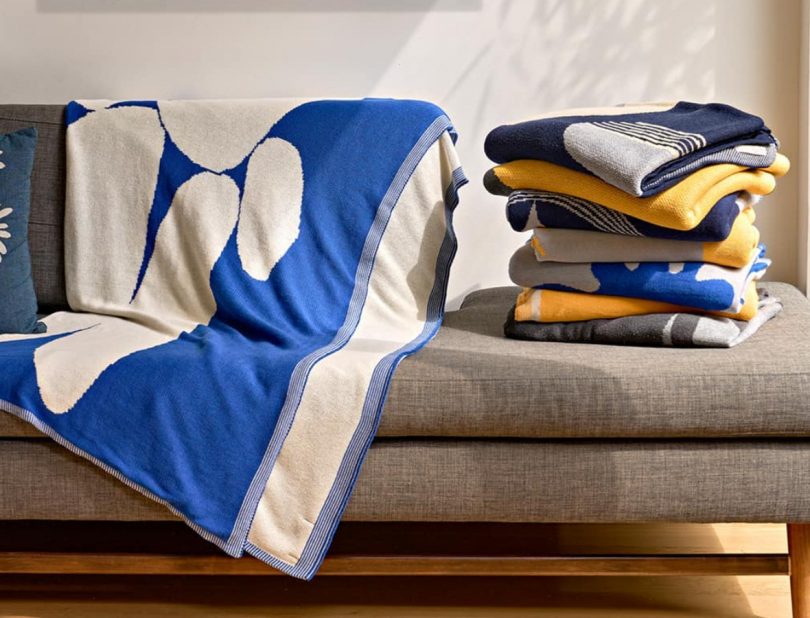 Cairn Blue Knitted Blanket
A reimagining of the cairn that inspired the Ebb + Flow collection, Claudia Pearson's Cairn Knitted Blanket is beautifully balanced, featuring stacked pebble-like shapes and a bright cobalt-blue color that evokes the comforting movement of a flowing river in nature. Knitted using 100% cotton, the Cairn Blanket is as soft as it is stylish – functioning as an optimistic pop of color perfect for bundling up on the couch. It's also available in a gray colorway for a more neutral look.
$181
Shop Now >>
Vase Canvas Art
This screen-printed canvas art piece fulfills our love of plants while delivering a minimalist design aesthetic. A graphic illustration of a donut-shaped vase with curved, monstera-like stems, the Vase Canvas Art captures the beauty in the simple things. The accompanying oak wood hanger brings natural texture to your walls and makes this modern print a seamless addition to any space in the house.
$69
Shop Now >>
Rock Knitted Blanket
Starring organic, rock-like shapes, Claudia Pearson's Rock Knitted Blanket is a modern and creative way to bring the outdoors in. With contrasting primary colors and neutral gray tones, the Rock Blanket delivers the best of both worlds – fold it in half and sling it over an accent chair if you're in a neutral mood or sprawl it out to reveal the uplifting cobalt blue and golden yellow tones for a playful pop of color.
$181
Shop Now >>
Shopping any of our Claudia Pearson favorites?
Show us your haul and tag us @designmilk for a chance to be featured on our Instagram!