If you're wondering where I've moved to (in my dreams), it's to this Central London Flat designed by VW+BS. I mean, it's super dreamy with tons of sunlight and flexible spaces for different functions. Back to reality… It was designed for an extended family of multiple generations from South East Asia that travel to London regularly for work and play. At any given time, there could be two entire families staying there for two weeks or just two adults there for two days, so it was important that the home accommodate as many functions as possible but be simple in design.
The Kensington Street flat was divided up with an awkward layout and dark bedrooms and bathrooms. VW+BS came in to bring the home back to life and they did with warm woods, clean white walls, and clever ideas.
The open, double height living area offers various functions, like being the living room, dining room, and kitchen. Directly above the kitchen is a mezzanine level that houses a bedroom and a study that looks out into the open space.
For privacy, a translucent polycarbonate folding screen was used to block off the bedroom/study when someone is staying there.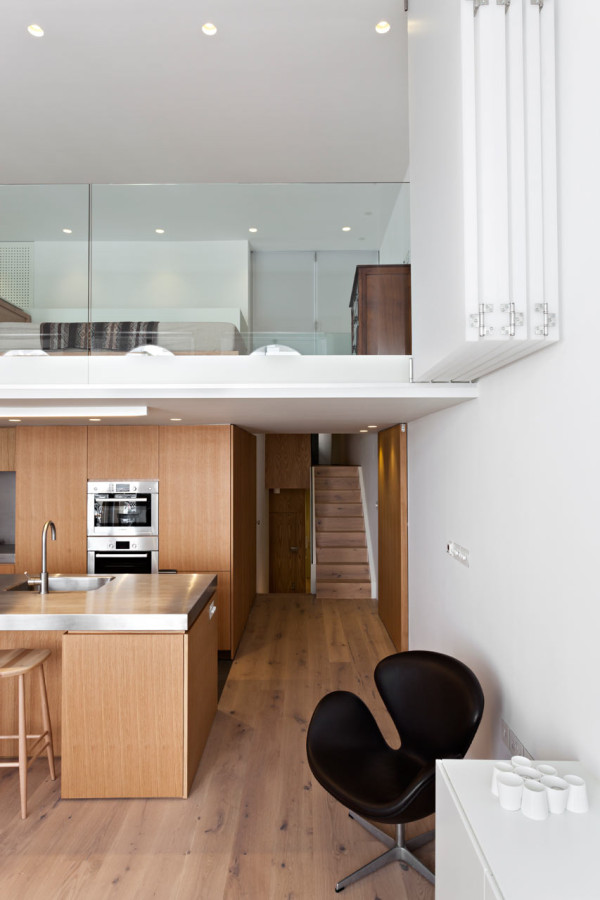 A large wooden door pivots open to reveal the pathway to the private quarters.
Three large arched windows look out onto the London streets while providing plenty of light for the space.
The bedrooms are located towards the back but they still get plenty of light through the smaller windows.
A smaller folding screen is located at the back of the mezzanine area for extra privacy.
Photos by Michael Franke.