CES 2021: Dell Aims at Graphic Designers With UltraSharp 40 Curved WUHD Monitor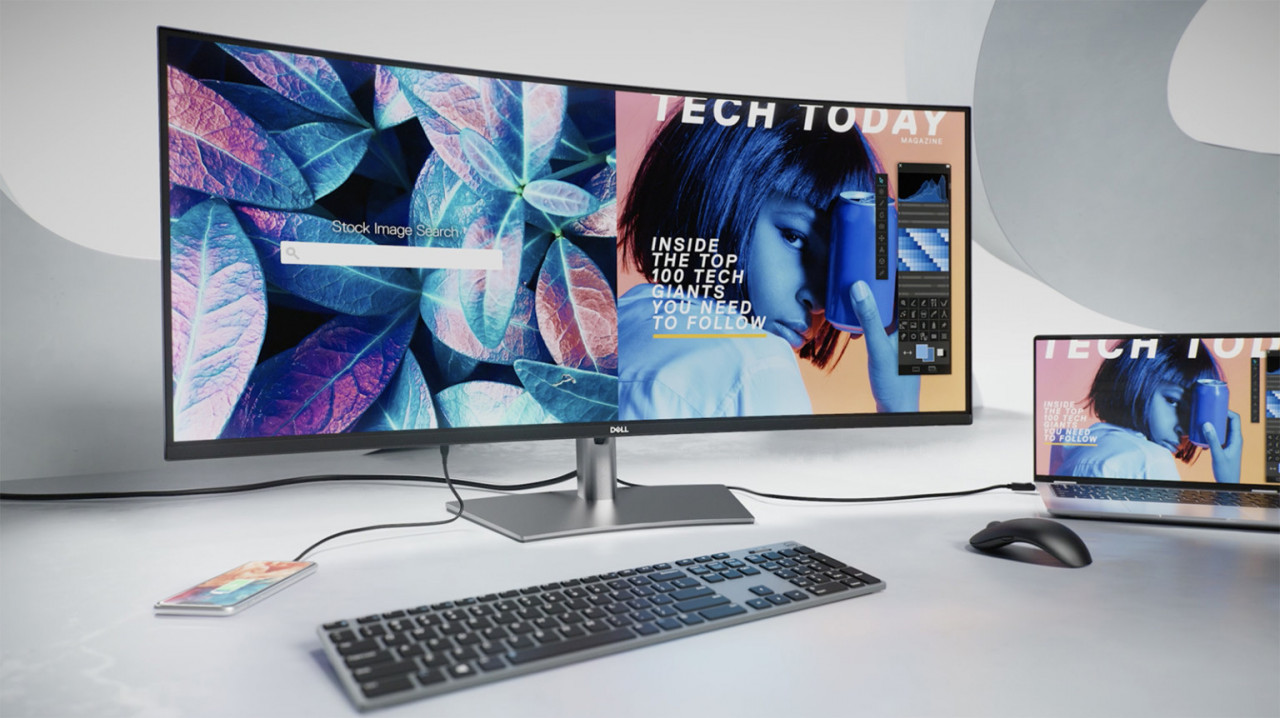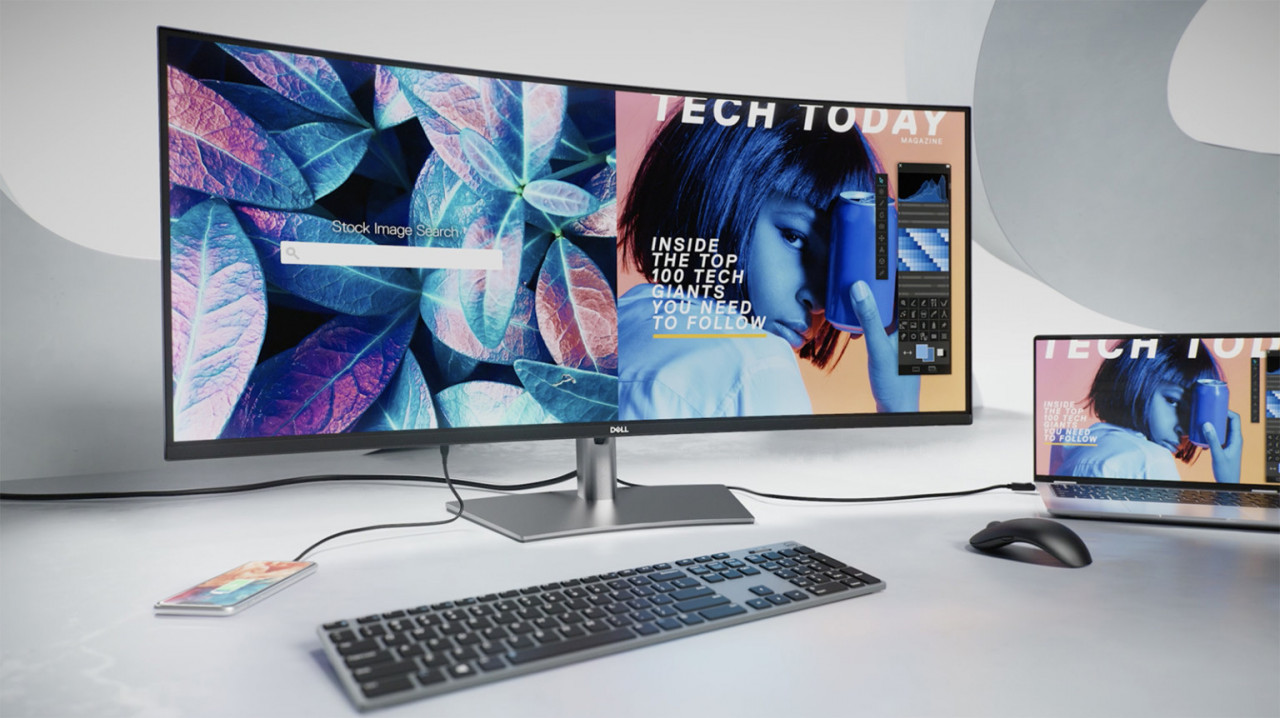 CES 2021: Dell Aims at Graphic Designers With UltraSharp 40 Curved WUHD Monitor
1/7 Photos
2/7 Photos
3/7 Photos
4/7 Photos
5/7 Photos
6/7 Photos
7/7 Photos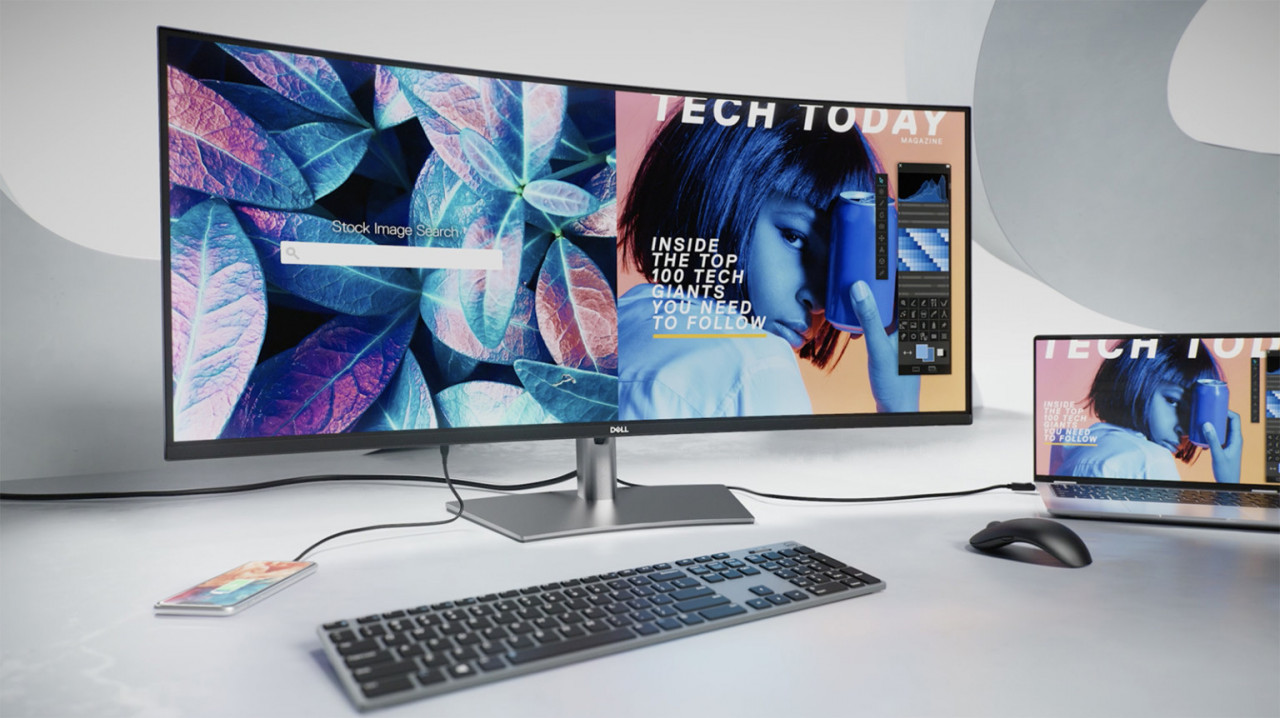 If there's one thing everyone learns quickly while working from home – especially anyone limited to the screen real estate of a laptop – is there's never such thing as too much workspace. This year's CES delivered more than a few display solutions aimed at design professionals looking for breathing room, most notably with Dell's announcement of their expansive 5K2K UltraSharp 40 Curved WUHD Monitor delivering 5,120 x 2,160 pixels of resolution.
In real world use, the UltraSharp 40 Curved WUHD's output delivers almost too much of a good thing. In our testing using both a Windows-powered Surface Pro X and the new M1-powered Apple MacBook Air, we found ourselves having to tail back the resolution to half using the Surface Pro X (no fault of the display itself; output was hampered by the device's underpowered graphics output) or down to 4608 x 1944 scaled resolution in macOS to make the OS usable for everyday tasks while keeping a multitude of application and browser windows concurrently open. But even at a scaled resolution, the opportunity to work across one large display rather than two delivers an efficient/proficient desktop experience that is all too easy to get comfortable with.
One concern we came into testing with migrating from a 2014 5K iMac was whether the difference in brightness between the two displays would be noticeable. We're relieved to report the UltraSharp 40 Curved WUHD's 300 nits of brightness is perfectly usable even from a desk set beside a window (for comparison, our 2014 5K iMac is rated 461 nits). Similarly the difference between pixel density while noticeable was not so pronounced to be distracting while switching between photo editing apps, reading and writing text.
But what makes the Dell UltraSharp 40 Curved WUHD a monitor to rule them all is the display's parade of ports behind and underneath. Most users will not be found wanting for options, thanks to the monitor's array of ports that essentially operate as its own hub. Connecting and powering our M1 MacBook Air is made simple thanks to the inclusion of a Thunderbolt 3 port supporting 90W power charging. Additionally, the monitor hosts another Thunderbolt 3/DisplayPort, two HDMI 2.0 ports (10-bit color at 30Hz), a DisplayPort (10 bit color at 60Hz), an audio line-out, four USB Type-A 10 GBps, a USB upstream port, USB 3.2 Gen2 ports, an RJ45 ethernet port, one USB Type-C 10Gbps port, and a USB-C downstream port. The plethora of ports should eliminate the need for an additional hub for the majority of users, in turn liberating desk space from clutter.
There are a pair of quibbles. An inconsistent distance between the millimeter gap separating the monitor's bevel and the display panel can be spotted along the edges, a detail most pronounced at the monitor's bottom center. The gap is admittedly subtle and disappears in day to day use, but may bother those demanding a perfect fit and finish. The second issue is much more minor, and par for the course for almost all monitors of this size: the built-in 9-watt speakers are tinny at best and would be best replaced with external speakers. Still, for a $2,100 investment, the audio output leaves room for improvement.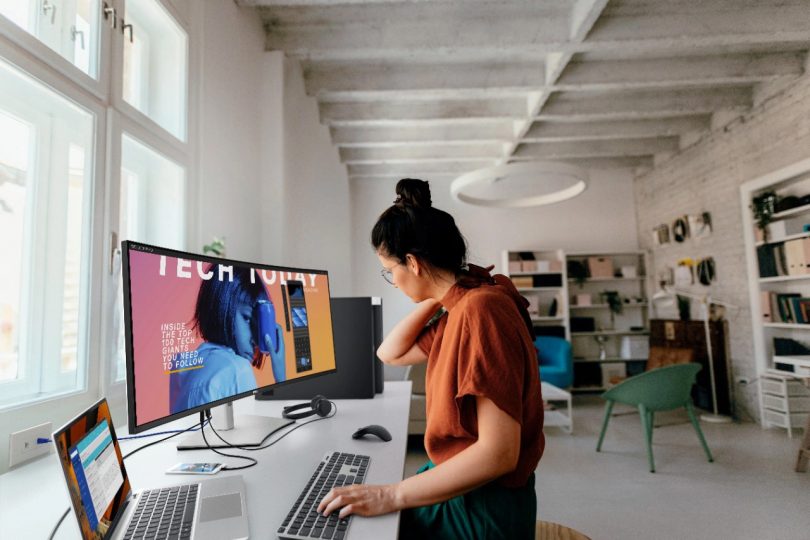 Overall, Dell's beautiful beast of a display delivers a convincing argument that bigger can be better, one that may convince users – whether they be Windows or macOS devotees – that working from a single large display can do the work of two screens more proficiently. While $2,100 isn't a budget option by any measure, Dell's UltraSharp 40 Curved WUHD Monitor checks off nearly every mark we'd want working from a display while working from home.
The UltraSharp 40 Curved WUHD Monitor is available starting today.