The following post is brought to you by Chairish. Our partners are hand-picked by the Design Milk team because they represent the best in design.
Does anyone else have that Madonna song stuck in their head? No? Just me?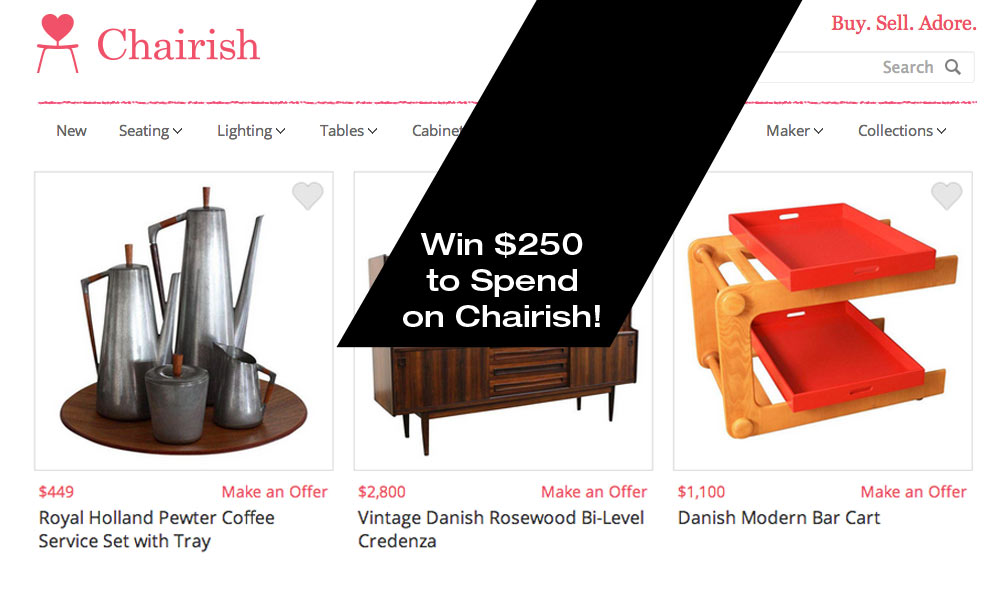 OK. I'm kind of obsessed with Chairish. For real. It's becoming a problem. Since moving into a new house, I quickly realized that selling most of our old furniture before moving was a great idea in theory, but now I have practically nothing. I've been on the hunt for furniture and decor for every. Single. Room. When I first heard about Chairish last year, they seemed to feature mostly traditional vintage furnishings but not a lot of modern stuff, however, over the past 6 months, it's quickly become like a high-end Craigslist for modern design and unique modern vintage pieces. So whether you're into the 70s revival, modern Memphis, mid-century, or just plain old modern, there are lots of products listed and more and more going up every day. Everything they sell has been pre-approved by the site's curators, too, so it's junk-free!
Despite liquidating most of our furnishings in NJ, we still have some leftover items we brought with us to San Diego that we love but just don't quite fit in with our new house, so we've decided to sell them. Since I'm such a Chairish stalker, it seemed like a no brainer to list them over there! It was super easy – I didn't even need to get off the couch. I simply downloaded their iPhone app and took pics and uploaded everything right from my phone (if you're reading on a phone, download the app here). I love how they offer white-background/silhouette services for your items.
Pair of Red Lacquer Eames LCW Chairs – Retail: $2464 \\\ Chairish price: $1800 $1600!

Like anything you see? Enter to win $250 site credit to Chairish right here. Simply enter your email address between now and 5/30 and if you're the lucky winner, we'll notify you.
I also created a Design Milk collection of 42 of my favorite picks from their site, which was no easy feat, since I could easily have included over 100 – view them all right here. Here are a few highlights:
From top left: 1 Royal Holland Pewter Coffee Service Set with Tray 2 Artek Alvar Aalto Lounge Chairs 3 Curtis Jere Brass Wave Wall Sculpture 4 Refurbished 60's Cora Ombre Ercol Chairs 5 Danish Modern Bar Cart 6 Twiggy Floor Lamp 7 Adrian Pearsall Gondola Sofa 8 Original Mid-Century Danish Modern Lounge Chair 9 Infiore Pendant Lamp by Estiluz 10 Artifort Pierre Paulin "Groovy" Chairs 11 Mid-Century Orbital Lamp 12 Vintage Danish Rosewood Credenza 13 Smoked Grey Ball Glasses 14 Custom Designed Modern Coffee Table 15 Abstract by Richard Godfrey
I hope I've inspired you to check out Chairish and buy, sell, or just window shop (just make sure you have a few hours to spend over there)! Don't forget to enter to win $250 worth of Chairish site credit right here.

Design From Around The Web