Jewelry meets security with Dundee University Product Design student Natalie Montgomery's door chain accessory. Charming Reminder is a beautiful, original way of organizing your day by accessorizing a door chain with silver-plated charms which can be used to remind you or the people you live with of special events or just everyday tasks. There is a core set of nine charms: umbrella, newspaper, telephone, key, letter, plug, sports shoe, present and a shopping basket.
Natalie's inspiration came when using Jane Fulton Suri's method of Thoughtless Acts in her design research. She took hundreds of photographs around homes and compiled a book of 100 ideas: thoughtful objects from thoughtless acts. She found that people often accessorize their doors by hanging coats, bags, scarves etc on hooks and handles. After research into charm bracelets and learning of how they promote sentiment and memory, the idea for Charming Reminder developed.
Natalie says, "I liked the idea of having a contrast between jewelery and security. It is kind of ironic or as Bill Gaver said about the idea, 'a little bit of random delight for functional objects.'"
Each individual charm starts out as a hand drawn illustration that gets etched on to 3-mm Perspex and cut out using a laser-cutter. These are then used as models to make the silicone molds that the pewter charms get cast from. When the charms are not in use, they will on display in an expertly crafted reclaimed birch pine cabinet.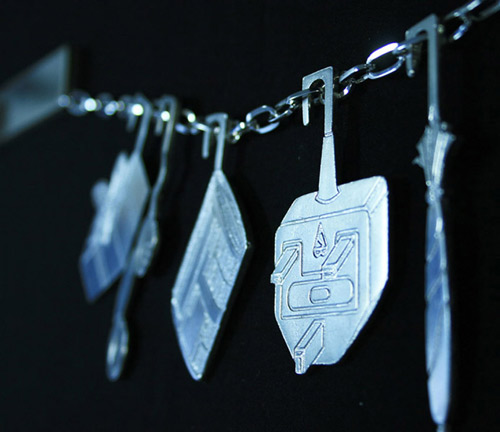 Design From Around The Web