We recently discovered Ben Barber Studio at the 2016 Sight Unseen OFFSITE fair in New York (we shared a glimpse of his work in part 1 of our recap here!). We were drawn to his design aesthetics and eye for color. Clean, minimalist lines? Pops of color? Eco-friendly and sustainable materials? We're sold.
The Table.1 in Colgate Green and The Tori Table
Both of these furniture pieces are cut on a CNC (Computer Numerical Control) machine for precise lines and are sprayed with a polyurethane auto-body finish to provide a high-quality lacquer that's shock proof, scratch resistant, and odorless (no need to open all the windows when you bring this piece into your home!).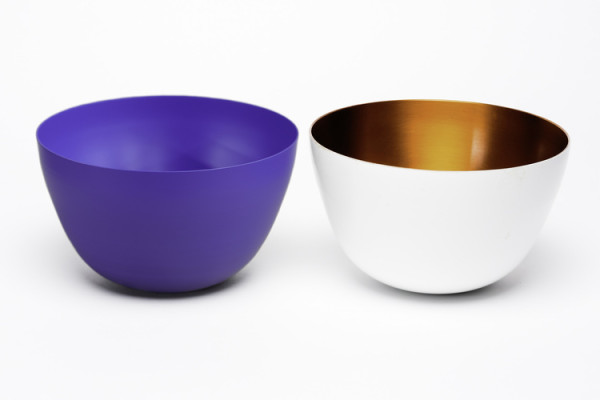 The Bullet Bowls
Made from sheets of copper or steel, a powder coating on the exterior (for the copper bowl) or on all sides (for the steel bowl) give this product a pearlescent hue that can't be duplicated from one bowl to the next.
The Fin Credenza
It's not every day that you see a three-legged credenza. Every detail of the playful storage unit, from its safety cone orange feet to subdued Colgate Green exterior, can be customized in a number of color combinations for the owner's preference.
The Daily Bed
This simple bed features a powder coated steel frame, soft wool mattress and bolster pillow, and the studio's signature bowl feet.
For more information about these products or to shop them, visit Ben Barber Studio.