Clerkenwell Design Week is now in its fifth year and was bigger and better than ever. The whole area, which is rumored to boast more architects per square foot than anywhere else in the world, was buzzing with a festival vibe from dawn until dusk and beyond. Artist and textiles designer Ptolemy Mann teamed up with Johnson Tiles to create the Prismatic Landscape, an installation that welcomed visitors to the festival's hub Design Factory at the Farmiloe Building.
Another exciting collaboration was Sir Paul Smith's take on the iconic Type 75 Anglepoise lamp by Sir Kenneth Grange – a combination of three of Britain's design icons and what a result.
The Float Tables collection was new from Pinch. Referencing fisherman's floats, as the name suggests, each table is hand turned and individually stained in a selection of colors.
Flora is a collection of powder coated aluminium shades by &Then Design in collaboration with Scarlett San Martin, and was also new for Clerkenwell Design Week.
Case Furniture launched an updated version of their 675 chair by Robin Day. They went back into the archives and made slight changes to their production version to bring it closer to Day's original design.
Outside the Farmiloe Building, Clerkenwell's showrooms were getting into the swing of it – Vitra challenged local architects and designers to tailor Ron Arad's Tom Vac chair – this was 'Tom Woof' by Coffey Architects!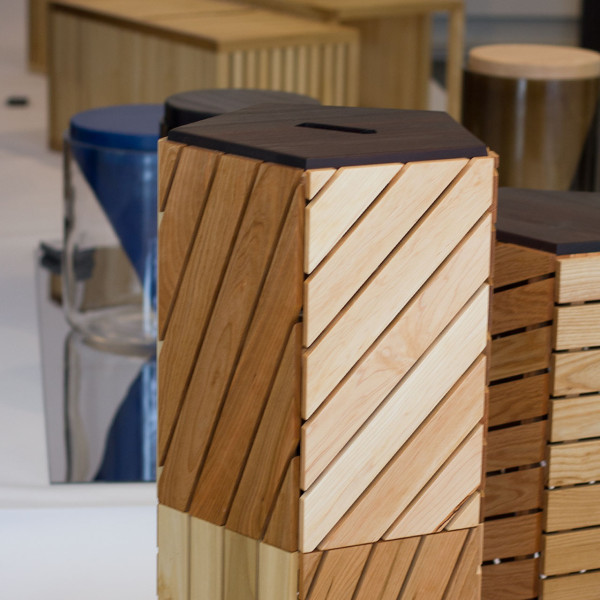 Just around the corner, The SCIN Gallery hosted the OKAY Studio project sponsored by AHEC and featured work from Ed Swan, Hunting & Narud, Liliana Ovalle, Mathias Hahn, Andrew Haythornthwaite, and Peter Marigold.
Detail is Clerkenwell Design Week's space for "fine craftsmanship and high glamour" at The Order of St. John. I loved Whippets, part of the Virginia White Collection.
Platform at the House of Detention (a cavernous underground space that was a prison in the Victorian era!) is the space dedicated to new talent, and so I always make a beeline for it. I loved the Capside lamp by Loïc Bard and the way the light escapes from the gaps – it looked fantastic in this gloomy dark setting.
Head and Haft were showing the Arthur side table, the solid granite top of which is quarried and machined in Cornwall, the most southwesterly tip of England.
Additions was a new show for Clerkenwell Design Week, showcasing smaller design pieces and interior accessories. A love of craft and a firm belief in its validity in a modern context led PR Nick Wiltshire to curate an exhibition there called The Makings of Luxury. I particularly liked the polished brass vessels by Brooksbank & Collins.
The Tunisia Made collection is a series of luxury vessels designed by Tunisia-born, London-based Hend Krichen, using Tunisian artisans. "Materials are kept as raw and natural as possible in order to reveal Tunisia's true identity and celebrate its natural resources in beautiful timeless objects that can be used everyday," says the designer.
HAM "captures unexpected moments from the contented lives of a pig, a horse and a rabbit." Additions saw the launch of four new rabbits: Reflective Rabbit, Croquet Rabbit, Superhero Rabbit, and Parachute Rabbit.
Custhom has an unusually geometric and understated approach to surface pattern design, resulting in a refined range of wallpaper, textiles, and tableware that stand apart from the often very feminine offerings in this area of design.
And finally, from one tile-based installation to another – Russ + Henshaw's Tile Mile, in association with Turkishceramics, celebrated the arch of St. John's Gate in Clerkenwell by reinterpreting its ceiling on the floor with an intricate tile design that was reflected into infinity using two mirrors.