Take a walk in the sky. Check out Tomás Saraceno's pod-like Cloud City on the roof of The Metropolitan Museum of Art in New York. It's great to see but better to experience. Visitors can walk on and through the structure of clear plexiglass, polished steel, and open windows which create an exhilarating (and occasionally frightening) sensation of walking on air.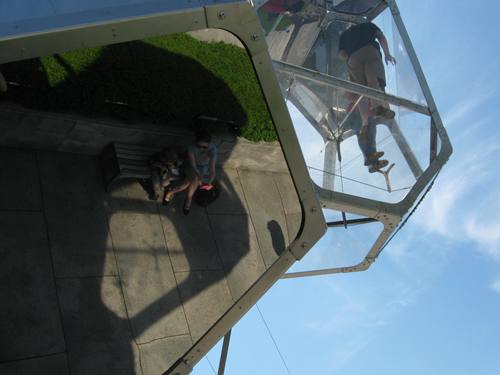 His full vision gets even higher at a gallery 60 blocks south. The Tanya Bonakdar Gallery has been transformed into a room-size walk-through architectural model with about a dozen suspended pod models. The backdrop is an enormous photo the roof of the Metropolitan Museum, as if these floating dwellings will soon be built, or that perhaps they already were… and just floated away.
What: Cloud City by Tomás Saraceno
When: May 15, 2012 – November 4, 2012 (weather permitting)
Where: Metropolitan Museum of Art, 1000 5th Ave, New York, NY
How: Read the exhibition guidelines and get there early to obtain a timed ticket to enter the sculpture
What: Air-Port-City/Cloud Cities by Tomás Saraceno
When: June 2, 2012 – July 27, 2012
Where: Tanya Bonakdar Gallery, 521 West 21st St, New York, NY
Header image + interior shot is © Tomás Saraceno, permission of The Metropolitan Museum of Art. All other photos by David Behringer.